30 April 2009 Edition
Scandal as government spends €550,000 on EU propaganda campaign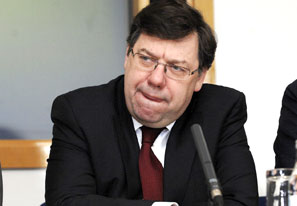 THE Irish Government's plans to spend €550,000 on a billboard, radio and Internet media campaign to promote Ireland's membership in the EU has been described as a 'fundamentally dishonest move by the government and a scandalous waste of taxpayers money' by Dublin MEP and Sinn Féin Vice President mary Lou McDonald.
McDonald said that the Irish people's commitment to Europe is not in question and the government knows this from its own research into the Lisbon no vote. She said for the government to spend €550,000 "on a campaign to convince the electorate of something they have signed up to is scandalous waste of public monies. It is also a deeply dishonest move by a deeply dishonest government".
"Brian Cowen in his letter to party leaders informing them of his decision to shut down the National Forum on Europe stated that the Oireachtas is the 'appropriate' place for debate on Europe. Of course it is the ambition of the Taoiseach to shut down the referendum process itself when it comes to EU Treaties", she said
"It is absolutely shocking to me that Fianna Fáil MEPs are standing over this approach by government who with one hand are shutting down the peoples debate on Europe whilst with the other force feeding them EU propaganda.
"The information the Irish electorate actually want from the government is a breakdown of Fianna Fáil MEPs' expenses and allowances. They want to know why some MEPs deem it appropriate to benefit from both an Oireachtas and EU pension. And such an exercise wouldn't cost the public purse a penny.
"There is a rot at the heart of this government and that rot is Fianna Fáil. What makes the Irish recession so much worse than any other in Europe is that we have Fianna Fáil, a party without aspirations, ideals or a commitment to social and economic justice. It's time for this government to go."