30 April 2009 Edition
Public meetings: National Conversation for a United Ireland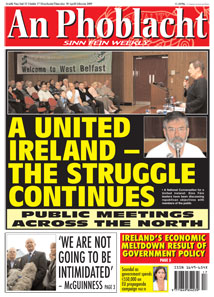 Partition 'the great immoral interference with Irish national rights'
A SERIES of 10 public meetings across the North began last week as part of Sinn Féin's programme of promoting a 'National Conversation for a United Ireland'.
Addressed by representatives of the Sinn Féin leadership, the Sinn Féin Assembly and Executive teams, its Leinster House and European teams, and local government representatives, the public meetings have provided an opportunity for discussion with members of the general public on the key republican objective and on other matters of public concern.
The meetings in the North follow a series of public engagements across the 26 Counties and the announcement that Sinn Féin will host two major conferences in the USA this summer and a conference next year in Britain as part of Sinn Féin's commitment to engage widely about the future of Ireland and achieving Irish reunification.
Meetings over the past week have taken place in Tyrone, north Antrim, Belfast, Fermanagh and Armagh.
Speaking at the first meeting in Galbally, County Tyrone, on Wednesday night, 22 April, Sinn Féin President Gerry Adams said that everything Sinn Féin does is set within the context of the Irish republican goals – Irish unity and independence, freedom, justice and equality. He said republicans can only achieve these goals if they have the active support of citizens across this island.
Partition, Adams said, remains "the great immoral interference with Irish national rights". He said that the Good Friday Agreement, as an all-Ireland agreement, transcends partition.
"Is it good enough," the Sinn Féin president asked, "as a settlement? No, it is not good enough as a settlement. But then it does not pretend to be a settlement. However, because it deals with the issues needed to bring about an accommodation, because it was capable of winning the support of all the main political parties on this island, and because it opens up the potential for a settlement in the time ahead, democrats and republicans support the agreement."
The Sinn Féin leader said that the responsibility of republicans is to work the agreement and to build on it in the future.
"That means defending the agreement and engaging with unionism on every aspect of it. It means pointing out to them that the main principles are their legal guarantees of fair treatment in a new, shared Ireland. It means persuading unionists of the merits of all-Ireland co-operation and partnership. It means persuading them of the logic and good sense of Irish unity.
"This dimension of our work is about dialogue, good neighbourliness, consensus building. It is about eradicating sectarianism.  It is about making friends with unionists. It is about nation building.
Adams said it is also about persuading the British Government to "do the right thing by Ireland". Republicans could not expect or wait for the British Government to do the right thing. Instead, we must organise for freedom.
"The British Government will only leave Ireland when the Irish people – together – demand that they leave. We also must be about maintaining internal republican unity and cohesion and building political alliances," he said.
"Let us be very clear about this: If we are not building locally then we cannot build nationally. I meet republicans all the time who complain about the slow pace of progress. There is validity in that. But struggle is like that, especially this phase of struggle, and there really is no room for spectatorism or hurlers on the ditch at this time. We don't have to agree about everything. There is plenty of work to do and room for everyone to do it."

Adams said that some former republican activists, including former IRA Volunteers, hark back to the 1970s or 1980s.
"This is not the 1970s or 1980s. Some have formed armed groups which purport to be the IRA – the CIRA, the RIRA, Óglaigh na hÉireann, the INLA and the IRLA. None of these groups is the IRA. They have no right to hijack its name or to mimic its actions. They cannot match the IRA for ingenuity, resourcefulness, courage and capacity.
"The IRA took armed struggle as far as it was possible to take it. They fought when it was a time to fight and they took the initiative leading to an end to conflict and sued for peace when peace became possible by other means.
"Some involved with these so-called dissidents may be genuinely motivated. But that is no excuse. Others are undoubtedly motivated by ego, self-gain and opportunism.
"All actions have to be judged by how they advance the struggle. Militarism, elitism or adventurism is no substitute for strategy, good tactics or commonsense.
"Some take exception to remarks by republican leaders and seize on these in an entirely self-serving and negative way. Others threaten to kill us. Or they actually attack our homes or offices.
"Let me make it clear that Sinn Féin are not going to roll over and surrender our struggle to any of these elements. They will come and they will go and the struggle for freedom will prevail and persist and succeed. We will not be deflected."
Gerry Adams pointed out that, 40 years after the Civil Rights movement began the fightback for equality and human rights, much has changed. Significant progress has been achieved, not least in the fact that there are more republicans now and more Sinn Féin elected representatives today than in the last 80 years.
"The Orange state is gone. Its legacy still exists, in discrimination, in the inequalities and divisions which persist – not least here west of the Bann – but today republicans and nationalists have made major strides forward and the momentum for change continues.
"Of course, it may take time for some unionists to catch up with this changing reality but their leaders know that there is no going back to the old days of sectarian domination and two-tier citizenship.
"The relationship between the North of Ireland and Britain has also been fundamentally altered and an increasingly confident republican community is taking co-ownership, as is our right, of every sphere of public, political and institutional life here. A peaceful and democratic path to a united Ireland has been opened up.
"So, Sinn Féin's historic duty is to popularise republicanism and to mobilise the Irish Diaspora across the world behind the demand for Irish unity."
The Leighinmohr House Hotel, Ballymena, was the venue last Thursday evening for the second public meetings. The panel included Bairbre de Brún MEP, Junior Minister Gerry Kelly MLA, Mitchel McLaughlin MLA and Daithí McKay MLA, who chaired the meeting.
Gerry Kelly, the H-Block escapee and former IRA Volunteer who is now a minister in the Executive, spoke of popularising republicanism and of making republicanism relevant to people in their streets and workplaces, their colleges and their communities.
"Our strategy – our plan – is about popularising republicanism. It means making republicanism relevant to citizens in their everyday lives. It means delivering for people across a range of issues which are important to them. It means party building, that is building a strong, empowered Sinn Féin organisation across this island. It means campaigning on social and economic issues, on every issue related to equality.
"It means thinking nationally and acting locally. It means fighting and winning elections, negotiations, publicity. It means internationalising the struggle. In summary, it is about building and using political strength to enable us to deliver real change and to achieve our national and democratic goals."
Bairbre de Brún MEP said these meetings are important because they provide the party leadership with the opportunity to engage with and learn from citizens right across the island of Ireland.
She spoke of the significant progress made since the Good Friday Agreement just over 10 years ago and how the political landscape is barely recognisable from what it was then. She forecast that, looking back 10 years from now, similar progress would be seen to have been made.
Commenting on the recent actions of so-called 'dissidents', the MEP warned that militarism would only serve to roll back the progress made to date and that such actions will not be allowed to block the peaceful and democratic path that we have opened and that the popular will is to move forward on issues including education and the Irish language, with mutual respect and equality.
Questions were asked from the floor on a wide and varied range of issues, including the economy, the transfer of policing and justice powers and the time frame for the ending of partition.
The panel answered all the questions asked and agreed that economic challenges were best dealt with on an all-Ireland basis and that decision making powers pertaining to tax varying and fiscal matters needed to be transferred from Westminster without further delay.
It was also agreed that good progress has been made on the devolution of policing and justice, especially since the decision taken by the DUP and Sinn Féin that neither party would nominate for the ministry.
Many other issues were debated, from the Lisbon Treaty to water rates, and the evening concluded with Mitchel McLaughlin thanking everyone for attending and engaging in the dialogue. He also remarked on the significance of the Sinn Féin leadership hosting a public meeting in Ballymena and said that barriers would continue to fall and that the flow of history towards an Ireland of equals wouldn't be denied.
In west Belfast, over 300 activists and community representatives packed a hall at St Mary's College on the Falls Road.
The fact that the meeting was scheduled for Sunday lunchtime did not deter the many people who came to engage with the Sinn Féin leadership as part of the 'National Conversation for a United Ireland'.
Leading the debate was Sinn Féin President Gerry Adams, together with MEP Bairbre de Brún, north Belfast MLA and Junior Minister Gerry Kelly and Sinn Féin Policing Board member Alex Maskey MLA.
In a thoughtful and comradely exchange, issues raised during the two-hour meeting included the Irish language, collusion, unionist engagement, and the forthcoming Orange marching season.
The most frequently asked questions were about the economy, both in terms of future strategies for prosperity and the immediate response to the current financial crisis and its threat to jobs, homes and incomes.
Bairbre de Brún said that partition disrupts economic development, North and South. Progress needs to be made on an all-island basis and Sinn Féin is leading the way in dismantling this artificial barrier to the Irish economy.
"But all-Ireland co-operation is not the same as thinking and planning on an all-Ireland basis. We have made progress but the process of transformation must continue."
De Brún criticised the failure of the British Chancellor's recent Budget to meet its financial commitments to the North. Taxpayers in the Six Counties are disadvantaged in that they would never be the priority of the Westminster Exchequer, Bairbre de Brún said.
"Those that opposed Sinn Féin's call for the power to raise taxes to be transferred to the Assembly, should rethink their position."
Questioned about the role of the European Union, de Brún said the EU has a huge impact and, as the only party organised on an all-Ireland basis, Sinn Féin plays a vital role in developing that all-Ireland relationship with the EU. 
• Gerry Kelly, Alex Maskey, Bairbre De Brún and Gerry Adams at the 'National Conversation for a United Ireland' meeting in Belfast