30 April 2009 Edition
ESRI report must act as wake up call
THE publication yesterday of a report from the ESRI that projected that the 26 County economy would shrink by 9.2% confirms what most people already know – this Government is incapable of sorting out the economic crisis. Over the past 12 months 200,000 people have lost their jobs. The economy has gone from boom to bust in what seems like the blink of an eye.
The fiscal crisis, which was created by dependency on the property market for revenue, has left the state in a very weak position to implement a recovery programme.
Ireland's banking system is collapsing. The problems of banks are much deeper than were previously acknowledged and continues to destabilise the economy as a whole. Government now provides taxpayers' money to financial institutions in previously unimaginable quantities. But there is no control over the use of the money, no insistence on structural reform or management reorganisation, no safeguarding of the essential economic functions of the financial services industry and no accountability for the damage that has been done.
Through the establishment of NAMA the taxpayer will be liable for €90 billion of toxic debts.
The Government's debt is expected to be more than 55% if GDP by next year. This figure does not however take account of the cost to the state of buying toxic assets.
The Government must re-engage with our economic problems and stop solely focusing on bailing out developers and bankers.
The way to address Ireland's fiscal crisis is through addressing the wider economic and employment crisis. Ireland needs a job creation and job retention strategy.
Despite proposals and calls from opposition parties, trade unions and other organisations, the Government is still failing to produce an employment strategy.
For every person laid off the cost to the state is €20,000 through redundancy and loss of tax. Stabilising the public finance demands that action is taken on job creation and retention.  Those who have lost their jobs deserve to have the government take action to ensure they can access alternative employment.  The severity of the projections made by the ESRI must act as a wake up call for the Government.
An Phoblacht Magazine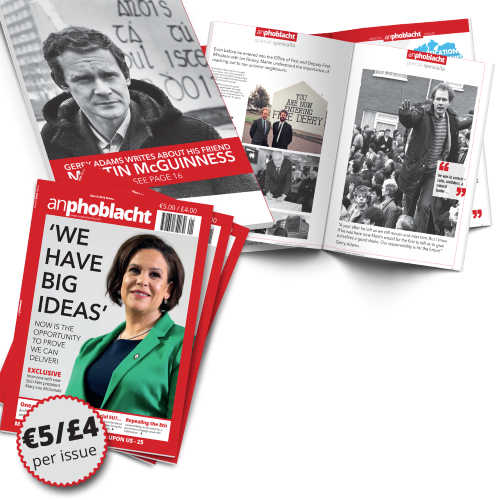 AN PHOBLACHT MAGAZINE:
The first edition of this new magazine will feature a 10 page special on the life and legacy of our leader Martin McGuinness to mark the first anniversary of his untimely passing.
It will include a personal reminiscence by Gerry Adams and contributions from the McGuinness family.
There will also be an exclusive interview with our new Uachtarán Mary Lou McDonald.
test