23 April 2009 Edition
DUP Bill to enshrine in law 'hierarchy of victims'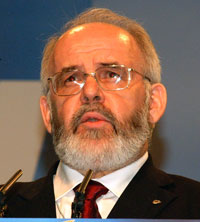 A DUP bid to bring forward legislation to change the inclusive definition of a victim will be resisted by Sinn Féin who will seek to veto it, the party's spokesperson on victims' issues has said. And Sinn Féin will be looking for the SDLP to also oppose the DUP move.
Mid-Ulster MLA Francie Molloy said that recent DUP comments have indicated that they are preparing to bring a Bill to the Assembly which will seek to change the current inclusive legal definition of a victim "and enshrine in law a hierarchy of victims.
"This is completely unacceptable.
"The current definition came about after years of campaigning by victims' organisations with the support of Sinn Féin.
"In response to any Bill the DUP bring to the Assembly on this issue, Sinn Féin will bring forward a Petition of Concern. Given the universal view on this issue amongst those groups representing victims of British state violence, I would fully expect the SDLP to join with us in this blocking these offensive and unnecessary DUP moves and I will be meeting with them to discuss this issue.
"Such a Bill from the DUP has nothing at all to do with victims or the needs of victims. It has all to do with Jim Allister and the European election campaign."
The fact the announcement came from Diane Dodds – who isn't even in the Assembly but is the DUP EU candidate facing Jim Allister – says much about the motivation behind this, Francie Molloy pointed out.
"The DUP need to get real about the victims issue. For too long they have sought to play politics with it and attempt to elevate one victim over another. That approach has failed and Sinn Féin will robustly block any attempt to go back down that road."