23 April 2009 Edition
16 Moore Street and GPO should be made part of historic quarter, says MEP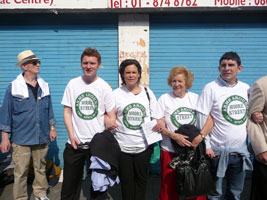 Activists take up arms for 1916 HQ under threat
HUNDREDS of campaigners who want the last headquarters of the Easter Rising 1916 garrison in Dublin preserved as a national monument as part of Ireland's history linked arms around 16 Moore Street on Sunday to publicise their cause. 16 Moore Street is in an area earmarked by property developers for a €1.25 billion shopping centre. A Bord Pleanála public hearing on the plan began this Monday.
On Wednesday, Dublin  Sinn Féin TD Aengus Ó Snodaigh launched the Planning and  Development  (Amendment  Bill)  2009 which has been drafted by Sinn Féin  as  part of the party's efforts to Save 16 Moore Street. Ó Snodaigh  was  joined at the launch by Sinn Féin local election candidate in Dublin's North Inner City Ruadhán MacAodháin.
Taking part in 'Arms Around Moore Street' on Sunday, Dublin Sinn Féin MEP Mary Lou McDonald said:
"The significance of this and surrounding buildings in terms of our history cannot be underestimated. 1916 was a defining moment in the history of this island and it acted as an inspiration to people around the globe struggling for freedom and against colonialism.
"It would be an absolute tragedy if the opportunity to construct a comprehensive historical and cultural quarter associated with 1916 and linked to the GPO on O'Connell Street, was lost.
"The potential of such a development would be immeasurable not only in achieving a better cultural, historical and educational appreciation of the period but also in terms of constructing a lasting memorial which could become a major visitor attraction for the capital."

FULL PRESERVATION
The Sinn Féin Vice-President said the party wants the full preservation of 16 Moore Street and the adjoining buildings (14 to 17), including any and all contents and fittings that date back to 1916, and their conversion to a museum and cultural centre honouring the men and women of 1916.
The party also wants the Moore Street, O'Rahilly Parade, Moore Lane, Henry Place and O'Connell Street, including the GPO, designated as an historic quarter and national monument of the capital city and its development for cultural and educational use "with appropriate commercial and residential aspects in keeping with its heritage".
FAMILY SUPPORT: Relatives of the 1916 signatories rally round Moore Street