23 April 2009 Edition
More than a game BY MATT TREACY

The height of ambition
THERE was a photograph of Dublin midfielder Joey Boland in one of the newspapers on Monday morning that captured how far the current hurling team has come. He is on his hunkers staring dejectedly at the grass. It is not so long ago that Dublin coming within two points of Kilkenny in Nowlan Park would have almost been a cause for mad jubilation. A lad might retire after such a feat.
Indeed, in my lifetime, the Dublin senior hurlers have only ever beaten Kilkenny twice: once in the league in 1989 and in the Walsh Cup final in 2003. You may throw into that a draw in the league two years ago and a draw in the league in (I think) 1975 or 1976. I was at three of those momentous occasions and only service to the Republic prevented me being in Castlecomer in 1989.
Ten of the current Dublin panel have been on minor teams that have beaten Kilkenny. There are hardly another ten people alive who were on Dublin teams to beat the Cats in anything prior to 1989! Add to the current set-up a few who have beaten Kilkenny colleges teams. What it means is that the old psychological Everest is maybe not as high as it once was (if it exists at all) and certainly they gave few indications that they were in any way in awe of Kilkenny as Dublin teams certainly have been in the past.



IT WAS an excellent display on a surface and a day that were perfect for hurling and even though neither team had anything to gain by taking the points it was played at an intensity that was as close as you will get to championship in the league.
Kilkenny also used 12 of the team that played in the All-Ireland final against Waterford and were sufficiently worried to spring Eddie Brennan, Cha and Adrian Fogarty from the bench.
In the end, the Cats' lethal ability to get scores and particularly goals when they most need them put them in front at the death and we were left to rue the penalty that was put over for a point and two missed frees.
But the regret was short-lived and the general feeling afterwards was of pride in the performance and huge optimism for the summer. Although none of us will be getting carried away. Dublin hurling is a hype-free zone.
It is always a pleasure too to spend a day at a match in Kilkenny who are the only supporters I even halfway believe when they tell you that they had hoped that we had won!
I suppose it's a bit like Seamus Heaney telling Cecilia Ahern he was hoping she would win the Nobel Prize for Literature. Anyway, it reminded once again why the Cats are my team after Dublin depart the championship.



GOING back to the psychological attitude of the team towards the elite counties, it is not without significance either that Anthony Daly comes from, and played for, a county which overcame a similar debilitating mental barrier in the 1990s.
And not so much even winning the Munster title and the All-Ireland in 1995 after gaps of 63 and 81 years but in beating Tipperary who occupy a similar place in the Clare moral universe except that there is nothing like the same animosity (let's call a spade a spade) between Dublin and the Cats. Tipp loved humiliating Clare whereas the Cats almost give us Dubs the impression that they are genuinely sorry when that happens.
Dublin's exile has also been of a lesser duration. It is a mere 71 years since our last All Ireland and 48 since our last Leinster. A blink of an eye. No one, of course, sees either famine coming to an end any time soon. Well, not in the next two to three years anyway.
The Dublin team of 1990/1991 that reached two successive Leinster finals had better prospects even for no other reason than the fact that Kilkenny were experiencing an unusually barren period. Had there been a backdoor system then they might have gone further.


I suppose it's a bit like Seamus Heaney telling Cecilia Ahern he was hoping she would win the Nobel Prize for Literature


OF COURSE, you have to deal with the situation in which you find yourself and the current one is that Kilkenny will probably not be beaten this year and maybe not next year.
The rest then must hope that when and if they do slip from their lofty heights they will be in a position to take advantage. The question will be who will be best placed to do so.
Dublin can certainly have some notions of being contenders and the composition of the team places them well, perhaps even more so than some of the traditionally elite counties and certainly more than some who have had realistic ambitions in recent years. The average age of the team I would guess is lower than most others and there is a nice blend of experience and youth that should mean they will peak if they stay together in perhaps three to four years.
A window of opportunity certainly but even counties which have won under-age All-Irelands (which Dublin have not) have failed to make the breakthrough at senior.
From where things stand, establishing Dublin as a county expected to be in the top flight of the league, maybe contending for league honours and one that might have reasonable expectations of still being in the championship in August, is the height of ambition. Anything beyond that is almost fantasy and there are lots of potential pitfalls on the horizon beginning with Antrim in the Leinster quarter final on 7 June.

An Phoblacht Magazine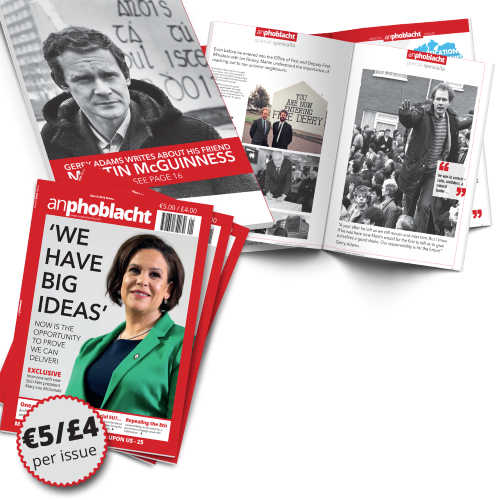 AN PHOBLACHT MAGAZINE:
The first edition of this new magazine will feature a 10 page special on the life and legacy of our leader Martin McGuinness to mark the first anniversary of his untimely passing.
It will include a personal reminiscence by Gerry Adams and contributions from the McGuinness family.
There will also be an exclusive interview with our new Uachtarán Mary Lou McDonald.
test