23 April 2009 Edition
Fianna Fáil, Greens and Fine Gael double standard on public sector firms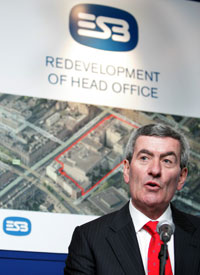 ESB's power surge as Eircom stalls

BY ROBBIE SMYTH

THERE will be 1,250 jobs lost in Eircom within 18 months while the ESB is set to increase its workforce by 3,700 in a bold strategy that will help retain existing jobs and create new ones in a range of green tech, R&D, construction projects and the roll-out of new technologies to make the company's electricity generation network more efficient.
The difference could not be starker between the public sector ESB and the privatised Eircom, now laden with multi-billion euro debts and described as "expensive and undependable" in a recent damning EU Commission report.
There was no comment last week from Taoiseach Brian Cowen on Eircom's growing problems or the €97 million offer to buy the firm made by an Australian-based group of former Babcock and Brown executives, the company which was the most recent owners of Eircom, having taken the phone company off the stock exchange for the second time in 2006. Then Eircom was worth €2.4 billion.
However, Brian Cowen was not as tongue-tied when it came to welcoming the ESB's expansion announcement. He said it was "a very welcome development in difficult times".
The ESB plans to introduce smart meters into homes and businesses, as well as greater investment in wind energy and a strategy to develop an electric vehicle project. The company estimate that a further 1,300 jobs could be created outside the firm from the positive knock-on effects of their investment strategy.
One of the critical aspects of the plan is the upskilling aspects, 800 apprentices will be trained in the development plan, half of whom will be existing FAS apprentices who were laid off in the current slump. The ESB has also promised to finance 50 apprentices each year between now and 2012 to upgrade their qualifications into an engineering degree.
Compare this to the unfolding scenario at Eircom, who have accumulated debts of €3.8 billion and a €433 million deficit in the company's pension scheme.

'EXPENSIVE AND UNRELIABLE'
A recent EU Commission report found Eircom "expensive and unreliable" in terms of access to its fixed-line network, with the highest landline charges in the EU. Eircom argues that a dispersed rural population make running their network more expensive.
But this view was challenged by Irish Rural Link, who represent more than 300 rural communities in Ireland. Seamus Boland, Rural Link's chief executive, told a meeting of the Oireachtas Committee on Communications, Energy and Natural Resources last week that Eircom was "incapable" of making the investment needed in telecommunications infrastructure in rural Ireland and that many communities would be "condemned to the digital dark ages for a generation".
Now to compound the misery at the firm, Eircom management are seeking voluntary redundancies but have threatened compulsory lay-offs if their target is met. Staff that stay with the ailing phone firm will be asked to take a 5 per cent wage cut over the next two years.
Green Party Minister for Communication, Energy and Natural Resources Eamon Ryan has a responsibility for both energy and telecommunications policy.
Speaking last week about the ESB, Ryan was eloquent and upbeat. Ryan said:
"Based on Government policy, one of Ireland's finest semi-state companies is stepping up to the plate and helping provide the jobs of the future."
It was good news all the way from Ryan who continued with his tribute to the ESB, saying:
"Today we are stimulating the economy, shortening the dole queues and helping the environment at the same time."
However, just two days later, when Brian Cowen was asked about the future of Eircom, he was, at best, circumspect. Cowen said:
"I'm not getting involved in speculation on policy other than to say what the existing policy position is and that the Minister for Communications will come to us in due course – it's not wise to make policy on the hoof."
The conclusion to be drawn from the silence on Eircom and ebullience on the ESB must be that the Government only has a policy for successful enterprises but finds little to say about unsuccessful ones.

A DIFFERENT WORLD
It seems like a different world when the first share sale at Eircom in 1999 was getting maximum hype.
Within years the company was taken off the stock exchange by a Tony O'Reilly's lead consortium who sold the company's mobile phone arm to Vodafone, selling off Eircom's fledgling internet business also and lucrative Golden Pages phone directory contracts.
They then took the firm back onto the Stock Exchange only to sell it to private equity firm Babcock and Brown, who bought Meteor as a mobile phone division and then began a massive marketing campaign to reposition the firm as a broadband internet service provider, which brings up the question as to why these assets were sold in the first place.
The raw truth is that, since the privatisation of Eircom, there hasn't been a coherent communications policy in the 26 Counties, particularly in the context of developing the actual phone infrastructure and turning a copper wire network into a much-needed digital hub with a fibre optic broadband service.
The 26 Counties has slipped further and further back in international measures of vital telecommunications infrastructure and what should be a vital growth sector in the economy is now cutting jobs and workers' wages. In the most recent International Telecommunications Union ICT survey, the 26 Counties was in 18th place.
It was strange, though, to see Fine Gael TD Simon Coveney jumping on the renationalise Eircom bandwagon. His party have been champions of privatisation since the emergence of the Thatcher sell off agenda in the 1980s.
This week, Eircom for Fine Gael is a "vital company of strategic importance", yet Fine Gael in government were just as avid privatisers as Fianna Fáil.
The greatest irony of the ESB expansion announcement this week is that this company could have had the same fate as Eircom, it was just that the privatisation bandwagon stopped at Eircom's door first that saved the ESB, who are far from the perfect firm.
The net result of all of this is that for this week it is Public Sector 1, Privatisation 0. 
Eircom in figures: June to December 2008
€433million 2009 pension scheme deficit, from a surplus of €20 million at 30 June   2008 and €422million at 30 June 2007.
€1.03 billion group revenue
€652 million operating losses
46,000 new DSL broadband customers
41,000 fall in retail telephone customers
€255 million Meteor mobile revenues
49,000 new meteor subscribers
€197 million in capital expenditure
7,500 Eircom workforce

Eircom in figures 2007
7,800 employed across ESB Group
€432 million profits in 2007
€123 million dividend paid to Irish Government
€900 million capital expenditure programme
94,400 new ESB customers last year
580,000 new connections since 2001
2 million ESB customers 2007
U-TURN: Now Fine Gael's Simon Coveney wants to nationalise Eircom!