23 April 2009 Edition
Social Welfare Bill 'bad news for most vulnerable'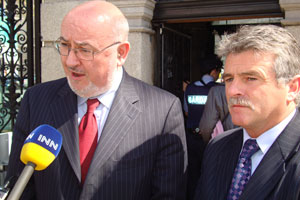 SINN FÉIN Dáil  Leader  Caoimhghín  Ó  Caoláin  TD  has called for new political  leadership and said   Fianna Fáil and the Green's are failing at every turn.
Speaking  from  Leinster  House on Wednesday  ahead of the resumption of the Dáil Ó Caoláin slammed a government Bill on Social Welfare which he said was bad news for  the most vulnerable in society.
"Attacking social welfare and sticking your head in the sand when it comes to Ireland's soaring unemployment levels is not a plan, it's a social and economic catastrophe. And government is now so disconnected from the people and so clueless in its approach that they are putting more effort into pleasing their Ministers of State with parachute payments than tackling the effects of the recession of its own making", Ó Caoláin said.
The government's plan seeks to cut back rent supplement payments. It also cuts job seekers benefit and allowances for under 20s. The Sinn Féin TD said that this was a grossly unfair move and "with the withdrawal of the early childcare supplement with no free pre-school provision in place is a shocking abdication by government of its responsibility to working families and children alike."
He said that taking away the Christmas bonus is perhaps the most damning indictment of Fianna Fáil and the Greens.
"To literally take Christmas from the poorest families is shameful, and one that the government parties will pay for dearly for on 5 June", he said.