23 April 2009 Edition
HSE plan would cause health chaos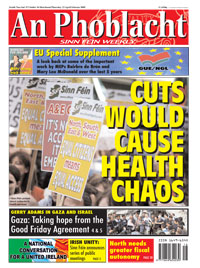 THE Irish Nurses' Organisation (INO) has said that 6,000 frontline nurses would be lost under plans by the 26 County Health Services Executive (HSE) to not fill posts that become vacant.
In a leaked document that was sent to managers and unions, the HSE said it was seeking major cuts in staff numbers. The document also warned managers that they could face disciplinary action if they breached new restrictions on hiring agency staff. The HSE document repeats proposals announced after the Government introduced a ban last month on recruitment and promotion in the public service.
Irish Nurses Organisation (INO) general secretary Liam Doran slammed what he called "draconian" plans saying they had the potential to "take 20,000 staff out of the Irish health service".
Pointing out that 13,500 people were working in temporary capacity he added: "If the non-filling of posts was adhered to over the next 20 months, over 6,000 front-line nursing posts will be lost."
Doran warned that those lost would be staff nurses and nursing managers, "not backroom staff, middle management people," and that nurses would be short staffed if staff members were out ill.
"We all recognise there is a financial problem in the country . . . but this is an impossible circular from a nursing perspective to implement because it compromises the very essence of what nursing's about – patient care," he said.
Following exposure of the document's contents on Tuesday night the HSE said it would hold off on the cuts and changes ahead of talks with trade unions next week.
SMOKESCREEN
Sinn Féin TD Caoimhghín Ó Caoláin, who is also the party's spokesperson on Health and Children, described the plan as "savage health cuts" that "cannot be dressed up as reform".
Ó Caoláin said:
"The HSE has already been directed by the Fianna Fáil/Green Government not to renew any temporary contracts when they expire, not  to fill posts that fall vacant due to retirement and not to fill posts that fall vacant due to resignations, career breaks or the early retirement scheme.
"Over 14,000 staff throughout the health services are on temporary contracts, so the full implementation of the Government directive to the HSE will have a massive effect on patient care. The further cuts revealed in the HSE memo will add to the chaos."
The Sinn Féin spokesperson said that while the transfer of staff from administrative duties to community health services is welcome this is being used as a "smokescreen" to hide the effects of cuts on frontline care.
"Hospital waiting lists and A&E queues are as bad as ever and will worsen with the massive cuts in jobs in the public health service.
"At the same time, the Health Minister has given a gold-plated guarantee to the hospital consultants that their €250,000 per annum contract will not be touched. This is for a 33-hour week in the public system and they can still work up to 25 per cent of that time in private practice.
"Savage health cuts cannot be dressed up as reform."
Irish Nurses' Organisation General Secretary Liam Doran said:
"The staffing cuts proposed by this draft circular would render the delivery of safe care, to patients and clients, impossible. Local managers would no longer have the authority to ensure safe and adequate staffing levels and, furthermore, would be threatened with disciplinary action if they did not adhere to the terms of the circular."