9 April 2009 Edition
New book marks centenary of Fianna Éireann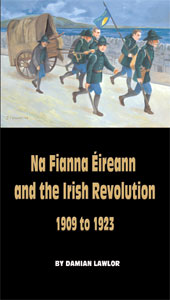 A NEW BOOK on the history of Na Fianna Éireann, Na Fianna Éireann and the Irish Revolution, 1909 to 1923, has just been published by Damian Lawlor to mark the 100th anniversary of what used to be the republican youth movement.
Na Fianna Éireann was founded on 16 August 1909 in an old rundown hall at 34 Lower Camden Street. A committee which included Constance Markievicz and Bulmer Hobson called the meeting to recruit boys in Dublin to a new nationalist body. The hundred or so boys who attended were creating an organisation offering an alternative to the British and growing Baden-Powell Boy Scout movement.
What developed over the next 14 years was a veritable boy's army which played a crucial role in the Irish revolution.
MEMBERS' STORIES
This book is unique in telling the history of Na Fianna Éireann. It charts its growth and development from 1909 to 1923, giving, for the first time, access to the stories of individual members.
The book also analyses its expansion into a truly national organisation with over 30,000 members spread throughout Ireland's 32 counties.
The book describes in detail:–
•    Development of Na Fianna Éireann in its early years;
•    A history of the flag, badge, uniform and song of Na Fianna Éireann;
•    Launch and growth of the Irish Volunteers;
•    The Howth and Kilcoole gun-running operations;
•    The Fianna circle of the Irish Republican Brotherhood;
•    Fianna involvement in 1916 Rising;
•    Reorganisation of the Fianna in the aftermath of 1916;
•    The Fianna's participation in the Tan War.
• Na Fianna Éireann and the Irish Revolution, 1909 to 1923, is available from the Sinn Féin Bookshop, Dublin (price €10) or by post from the author at
[email protected]
(€14.50 in Ireland and €15.50 elsewhere)
An Phoblacht Magazine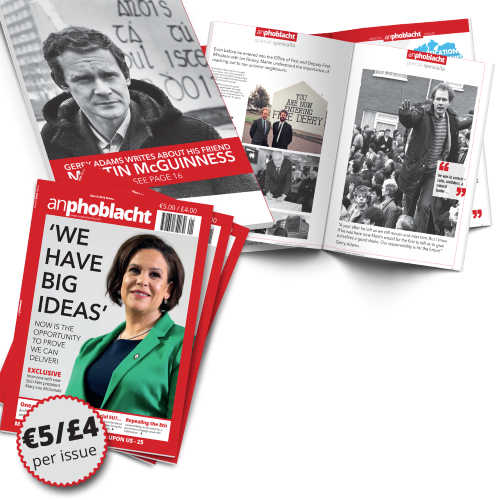 AN PHOBLACHT MAGAZINE:
The first edition of this new magazine will feature a 10 page special on the life and legacy of our leader Martin McGuinness to mark the first anniversary of his untimely passing.
It will include a personal reminiscence by Gerry Adams and contributions from the McGuinness family.
There will also be an exclusive interview with our new Uachtarán Mary Lou McDonald.
test