9 April 2009 Edition
Gerry Adams visits Gaza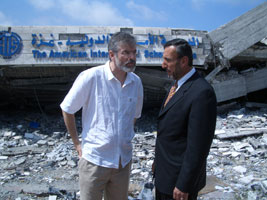 SINN FÉIN President Gerry Adams entered Gaza on Wednesday morning at the start of a two-day visit to the area and as part of a wider visit to Israel and the west Bank.
Adams had spent his first day in the region visiting Sderot and Kfar Aza – a town and Kibbutz – in southern Israel that have been the targets for rocket attacks from Gaza.
Speaking firstly in Irish from Gaza to a packed press conference amid the rubble of buildings destroyed during the recent assault on Gaza by Israel Mr. Adams said:
"The last time I visited this region was two and a half years ago. The conflict has been unrelenting since then.
"My purpose in travelling to this region is to meet as wide a range of Israeli and Palestinian opinion as practicable; to listen to what they have to say; to learn more about the situation and to answer any questions they may have about the Irish peace process.
"Yesterday I visited Sderot in southern Israel. This morning I am here.
 "The vast majority of Irish citizens who watched the Israeli assault unfold on Gaza before and after Christmas were shocked by what they saw. They believe that what happened was wrong.
"I too watched those scenes on TV but nothing prepares you for the reality of the destruction and the enormous impact this has had on people, on families and on children.
"Sinn Féin and the majority of citizens in Ireland want all of this to end.
"I believe there should be a complete cessation of all hostilities and freedom of movement for everyone. There needs to be a dialogue between the people of Palestine and their leadership; and the people of Israel and their leadership; leading to a peace settlement which must be urgently built.
"We believe that the people of Palestine and the people of Israel have the right to live free from the fear of threats, with human rights and in dignity and as equals. And in as much as Sinn Féin can help we will.
"The international community has a huge responsibility to use its influence to support a meaningful peace process that can deliver real change and hope for the people of Gaza.
"I am convinced following my conversations and from my knowledge of this situation that the overwhelming majority of Palestinians and Israelis want peace and stability and a better future."