9 April 2009 Edition
Battle of the Bogside to be remembered 40 years on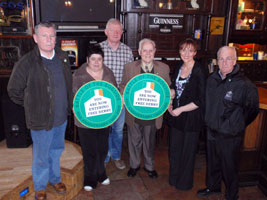 SPEAKING this week at the launch of a badge to commemorate the 40th anniversary of the Battle of the Bogside, Sinn Féin Foyle MLA Martina Anderson said:
"The Battle of the Bogside and the events of August 1969 changed not only the political landscape of Derry but the entire island of Ireland. It was an extraordinary time when ordinary men, women and the young people of Derry galvanised and bravely took on the corrupt Orange state of the day.
"At the centre of all this was a corrupt and sectarian motivated police force, the RUC and B-Specials, used by the unionist government to attack people engaged in a campaign for civil rights. This is why it is important that we develop a new policing service free from political control that will uphold the rights of all citizens across the North.
"The iconic pictures of what was happening in and around the Rossville Flats and William Street were flashed around the world and at the same time there were similar actions taking place in Belfast and towns and villages across the North.
"In Belfast intense battles saw dozens of Catholic homes being burned to the ground in Bombay Street and hundreds of people being displaced from their homes.
"Forty years on it's very important that we remember those momentous events and the bravery of all those who played their part in it, no matter how big or small.
"The launch of this commemorative badge is the first of several events that will be taking place in the months ahead to mark the 40th Anniversary of the Battle of the Bogside."
• Badges are now on sale at Peader O'Donnell's and  Dungloe Bar, Derry.