9 April 2009 Edition
More than a game BY MATT TREACY

Banking on the Cats
IT IS changed times indeed when Dublin supporters are disappointed that a match with Clare ended in a draw! Clare have been one of the teams (along with Tipperary) who have given Dublin awful tonkings in the league and championship any time they have met in recent memory but those days seem to have passed, for the time being at least.
Dublin needed a win to retain any hope of reaching the final although, as results transpired elsewhere, even a win would not have been enough unless Dublin were to beat Kilkenny in Nowlan Park in the last game. Well, I don't think I need go on too much about that.
Clare were fighting for survival in the division and so one point means that they cannot avoid relegation. Or, to be more precise, they cannot avoid the physical fact of being relegated although Mike McNamara has said that they have no intention of competing in Division Two next year as it is, according to himself, "meaningless". He did hint that Clare might field a "developmental squad", in an obvious dig at Cork.
The match itself was not a classic but it was tough and keenly contested. Clare might not have as good a team as they used to but they have certainly not abandoned their ethos. Having seen all of Dublin's games this year except the Waterford one, I can say that it was without doubt the physically most demanding.
Being able to compete in those stakes as well as in hurling is obviously a vital element if you are to survive among the elite and so last Sunday will have been invaluable to Dublin, especially as they managed to come back and draw level and might even have won. Indeed, if there is one thing that separates this team from previous ones it is that they seem to get better the longer matches go on as they also proved last week in Thurles when almost hauling back a nine-point deficit to at least claim a draw.


I CANNOT say I was surprised by the result in Kilkenny.
During the week, Eddie Keher had a right go at the Cork team for suggesting that the only thing that had stopped them winning the All-Ireland last year was Gerald McCarthy. Dear, oh dear, what can they have been thinking of? 
Now, the Cats would rarely need anything to motivate them against Cork but this was handing it to them on a plate. Brian Cody is a pleasant, quiet sort of a chap but anyone familiar with his 'work' knows that he is absolutely ruthless in putting any team that has pretensions about themselves, and especially any team perceived to be guilty of slighting his players, to the sword. 
The ironic thing about the Cork performance on Sunday was that they managed to ship a loss that was heavier than any inflicted on Gerald McCarthy's young team which had been accused of bringing unparalleled shame on the red jersey. They managed to be beaten in their three games by Dublin, Galway and Tipp by a combined total of 35 points. Last week Cork lost by 27. 
In fairness, the Cork team that took the field last week was maybe five, six or seven short of the likely championship side. On the other hand, some of those best known from the '2008 panel' are clearly past their best and Denis Walsh said after the game that he would be contacting Diarmuid O'Sullivan and Joe Deane in an attempt to entice them out of retirement. 
Fair enough but there are people who would claim that apart maybe from the second half of the Galway match last year that they and indeed others who are still on the panel had exhibited signs that their best years were behind them. Cork need to move on and that more than likely means shedding most of their iconic figures in the next year or two if they are to become a serious force again. They may abandon any hope of seriously challenging the Cats this year, but then again what team can have any pretensions in that direction?
They are currently around 2/5 with most bookmakers and you know if you had the spare €5,000 or even €50,000 lying around in a box somewhere you could do worse than put it down in the confident expectation of making a 40 per cent profit come 5pm the first Sunday in September.


A CARLOW chap complained to me last week that Dublin were deflecting all the attention from the real hurling story of the league, namely the performances of the Carlow team in Division Two.
They are currently fourth with eight points having beaten Antrim, Westmeath, Down and Kerry and indeed have a theoretical chance of making the final if they were to beat Wexford by 30 points. Okay, unlikely to happen. 
What is likely to happen is that Offaly will most probably recover from last weekend's hiding from Wexford and beat Antrim and that the final will be between Offaly and Wexford. That will be interesting as it will be only the second part of a trilogy due to climax on 30 May when they meet in the Leinster quarter-final. When teams play one another that many times in such a short space of time, psychology can be a vital factor and you would imagine that the balance is in Wexford's favour after Sunday.
One other item of note from last week was another big win for the London team that looks certain now to win Division 3B. Last year they finished bottom of 2B and just avoided relegation from the Christy Ring Cup. The difference? It's the economy, stupid.

An Phoblacht Magazine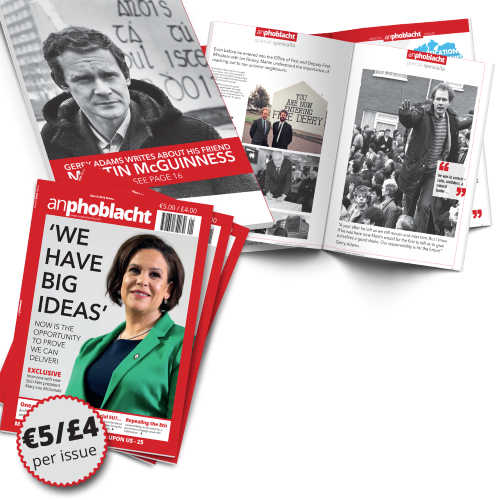 AN PHOBLACHT MAGAZINE:
The first edition of this new magazine will feature a 10 page special on the life and legacy of our leader Martin McGuinness to mark the first anniversary of his untimely passing.
It will include a personal reminiscence by Gerry Adams and contributions from the McGuinness family.
There will also be an exclusive interview with our new Uachtarán Mary Lou McDonald.
test