9 April 2009 Edition
Fianna Fáil and Greens penalise least well off
WHEN Brian Lenihan sat down after delivering his emergency budget speech on Tuesday, the applause from the Fianna Fáil back benchers was muted. Those TDs must have known that the emergency budget had come way short of any reasonable expectation of what would be considered fair, progressive or innovative.
The Irish people know that we are in an unparalleled economic crisis. They want to play a part in building an economic recovery. What tens of thousands of households saddled with debt and wage cuts didn't want and what the nearly 400,000 unemployed don't want was to have to carry the biggest burden of paying for mistakes they had no part in making.
The coalition government has come up short. The vision unwrapped by Lenihan of what he called the "road to economic renewal" is a dead end. The proposals made were short-sighted and will make the poorest in Irish society pay most.
Taking the low paid into the tax net is a retrograde step, as is cutting the December social welfare bonus and the halving of the job seekers allowance. Not imposing tax hikes on the high paid elite who have benefited proportionately more than any other sector from the boom years was unfair and negligent on the coalition's part.
The absence of a strategy to create jobs, to energise Irish business, to retrain and re-skill the unemployed for the next phase of economic development is unbelievable as are the proposed cuts in green tech research grants.
This brings us to one key point in the budget. Where were the Green Party? Are these cuts part of the new Green Deal? Do they really think saddling the tax payer with another €90 billion in bad banking debt caused by two decades of reckless fat cat lending is a progressive step. Do they think cutting REPs is good for farming or is it okay for small farmers to yet again bear the brunt of government failure?
Do they really think that cutting subventions for CIÉ is a good idea. Isn't supporting public transport part of the green vision? What about the cuts in school building?
This was a savage budget, and hurts deeply those who can least afford to pay. Fianna Fáil have a long legacy of inflicting blight and scars on Irish society. The Green Party are a new variant in legitimising the politics of greed, where the rich pay pennies towards recovery and the poor lose the most.

An Phoblacht Magazine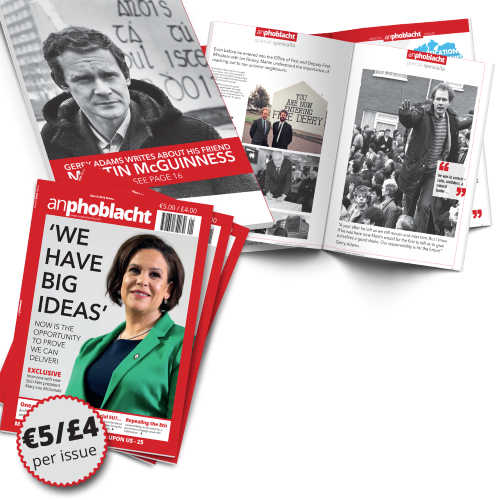 AN PHOBLACHT MAGAZINE:
The first edition of this new magazine will feature a 10 page special on the life and legacy of our leader Martin McGuinness to mark the first anniversary of his untimely passing.
It will include a personal reminiscence by Gerry Adams and contributions from the McGuinness family.
There will also be an exclusive interview with our new Uachtarán Mary Lou McDonald.
test