2 April 2009 Edition
More than a game BY MATT TREACY

Something nasty in the 'Hot Press'
IN THE COURSE of doing something else (not drinking Heino with "that shower", as my nemesis would claim!), I came across some old copies of Hot Press. As the more sophisticated among you will know, it is allegedly Ireland's Rolling Stone or New Musical Express, what verbally-challenged chaps would describe as 'the Bible of the music industry'.
Back in the 1980s, however, it was far more than that.
It featured some good writers like John Waters and the Irish left's answer to Peregrine Worthstone, Eamonn McCann, alongside some truly awful eejits. It also did a good line in anti-republican and anti-national nonsense, epitomised by the caricature that is George Byrne, the alleged coiner of the phrases "bogball" and "stick fighting" to describe Gaelic football and hurling. A thundering fool.
It is no coincidence, I think, that several Hot Press contributors went on to ply their trade with the Sunday Independent which is happy to print the juvenilia of rather sad 40-somethings. I have to admit their rantings used to really annoy me; now it has a curiously dated air. Indeed, as Desmond Fennell said about Eamon Dunphy in 1983, when Dunphy was penning similar diatribes before he copped himself on, the anti-national element were fighting a battle that they had already won.
They were Don Quixotes tilting at a 'backward Catholic nationalist' windmill whose wheel had stopped turning long since. But they were still obsessed with the mythical fáinne-wearing, hurley-wielding, IRA-supporting, Protestant-hating, wild Christian Brother battering them into 'De Valera's Ireland'.


THINGS have certainly changed, not least the image of the GAA. And, of course, ironically, the likes of Byrne had to sidle into Croke Park if they wanted to see one of the Irish soccer teams in the past few years. That must surely have stuck in his gut!
On the other hand, there are those who would argue that one of the reasons the GAA has become accepted by those formerly hostile to it is the very fact that it has abandoned certain aspects of its own ethos, including the use of Croke Park for soccer and rugby and the dropping of the rule relating to members of the British Army or PSNI becoming members.
They were still obsessed with the mythical fáinne-wearing, hurley-wielding, IRA-supporting, Protestant-hating, wild Christian Brother battering them into 'De Valera's Ireland' 

The fact, as Fennell said, that the anglophile liberals had won makes the fanatical zeal with which they continue to fight their vision of backward nationalism all the more curious. It is a bit like Fergus Finlay's description of the Labour Party as having spent years struggling against a 'deeply conservative society', conjuring up images of Labour Party members living the hunted life of say a member of the Communist Party of Paraguay in the 1950s or a Hungarian freedom fighter in the aftermath of the Soviet invasion in 1956. Whereas, in fact, Labour has for its entire history since 1922 either been a quiescent if not particularly objectionable marginal force and more lately the favoured vehicle of comfortable middle-class liberals to variously indulge their ongoing battle against the dark forces of reactionary Catholic nationalism and their faux radicalism in other areas.


SO, despite the ongoing erosion of Irish sovereignty and, if anything, the increasing inanity of popular culture and the rapid transformation of Irish people into 'citizens of Europe', certain people still feel a need to continue their crusade against all vestiges of backwardness. Although, as Fennell said a quarter of a century ago, they have won the war, it is understandable in the context of the overall project.
The GAA is still the object of much of their ire although it is more difficult for them to find excuses now that some of their favourite hobby-horses are no longer relevant because they have been conceded to.
There are some who will grudgingly acknowledge the GAA's having embraced 'pluralism' and 'multiculturalism'. All a long way from the heyday of George and the lads and drunken FAI officials singing "You can shove your GAA up your arse!" on the plane back from Belfast after one of the Irish teams had qualified for the World Cup. Although one of the latter did, on his first visit to Croker, describe it as "a monument to bigotry"!
Anyway, they'll be moving back across the Liffey next year and no longer will there be such a place as the 'Northern Terrace' where Hill 16 used to be. Y'all come back real soon.

An Phoblacht Magazine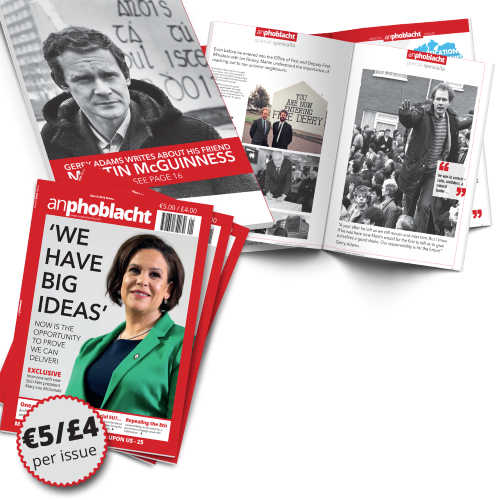 AN PHOBLACHT MAGAZINE:
The first edition of this new magazine will feature a 10 page special on the life and legacy of our leader Martin McGuinness to mark the first anniversary of his untimely passing.
It will include a personal reminiscence by Gerry Adams and contributions from the McGuinness family.
There will also be an exclusive interview with our new Uachtarán Mary Lou McDonald.
test