2 April 2009 Edition
Addressing the public finance deficit
SINN FÉIN last week set out in detail how it would stimulate and stabilise the 26-County economy through a major plan to retain and create jobs. This week, the party published the details of its submission to the Irish Government to address the shortfall in public finances.
The Sinn Féin proposals would protect those on low to middle incomes and those on social welfare. They call for a third tax rate on income in excess of €100,000, standardised tax reliefs and an end to tax exile status and shelters.
Sinn Féin's proposals would raise an additional €3bn in tax revenue and savings in 2009 and almost €5bn in a full year.
The party called for borrowing to be increased to 10.5 per cent,which would raise €2bn this year and it warned against taking too much money out of the economy at this time.
Next week's Emergency Budget must include measures to start stimulating as well as stabilising the economy. At the moment, the handling of public finances by Fianna Fáil and the Green Party is compounding the problem. They have stated that they need to raise €4.7bn to meet budgetary targets but their financial projections have been consistently wrong and that their failure to take measures to stabilise tax receipts makes it impossible to define exactly how much will be needed month-on-month to stay within Budget estimations.
The Government did nothing over the last ten years to broaden the tax base or make it more equitable. As a result, as the construction and retail sectors began to depress, public finances went into freefall. And now, instead of bringing forward a framework and strategy for growth, they have introduced a set of non-aligned, short-term initiatives, many of which are counter-productive.
The Government has confused accountancy with economics. They should have put more money aside in the boom and invested in long-term priority projects.  Instead, they wasted much of the state's money on non-productive schemes such as property incentives, fuelling and prolonging the property bubble. Now we have the same thinking in reverse. They will exacerbate the recession by over-taxing and spending cuts rather than stimulating the economy.
Sinn Féin believes that the only way to secure the economic future of this country is to retain existing jobs and to create new ones; to create a fair and progressive taxation system; to reduce the trade deficit; and to stabilise the financial sector.
Next week's Emergency Budget must include measures to start stimulating as well as stabilising the economy. There are growing fears about the damage that has been done to Ireland's international reputation and how that will impact on the ability of the 26-County state to borrow and at what rate.
Measures must be taken to control public finances and send a signal to the lending community that there is economic leadership in the state. But the Government cannot tax or cut its way out of this crisis – borrowing will also be necessary to stimulate the economy but it must be strategic, just as taxes and cuts must be both strategic and fair.
An Phoblacht Magazine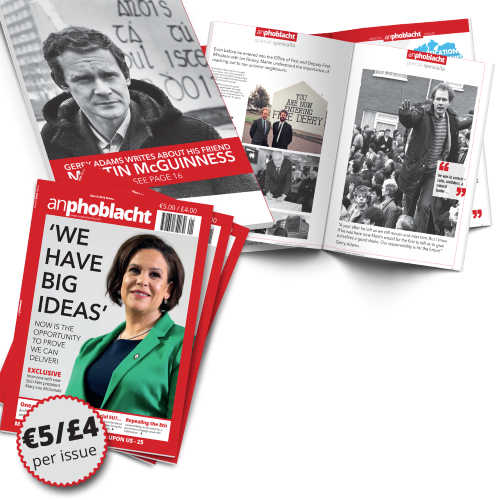 AN PHOBLACHT MAGAZINE:
The first edition of this new magazine will feature a 10 page special on the life and legacy of our leader Martin McGuinness to mark the first anniversary of his untimely passing.
It will include a personal reminiscence by Gerry Adams and contributions from the McGuinness family.
There will also be an exclusive interview with our new Uachtarán Mary Lou McDonald.
test