26 March 2009 Edition
Remembering the Past: Mass escape from Mountjoy

BY MÍCHEÁL Mac DONNCHA
FOLLOWING the establishment of Dáil Éireann in January 1919, resistance to British rule in Ireland continued to grow by the day and British repression intensified. The struggle within the prisons escalated and the month of March 1919 was to witness sensational escapes which severely embarrassed the British Government.
One of the most extraordinary individuals imprisoned at the time was Pádraic Fleming. He had been jailed in 1917 and again in 1918. He was held in Portlaoise Prison and was determined to break all the rules and resist in every way. He embarked on hunger strike and was force-fed and restrained with a straitjacket. Even so, he still managed to break up his cell, including the gas fitting in the ceiling. He broke out of his straitjacket and was dragged head first down flights of iron stairs by the prison guards.
In January 1919, Fleming was transferred to Mountjoy Prison. Here he led the prisoners in C and D wings in another campaign of resistance, with furniture being smashed up and the prisoners refusing to go to their cells at night. In March, this protest was called off as other plans were being hatched.
Robert Barton was Sinn Féin TD for West Wicklow. Having sawed through the bars of his cell in the Mountjoy infirmary, Barton got to the outer wall, threw over a piece of soap and a rope ladder was thrown back from outside. Next morning, St Patrick's Day, warders found in Barton's cell a note to the Mountjoy governor which said:
"I am about to make an escape from your hospitality. If I escape, well and good, if not I am prepared to suffer the consequences... I hope that we may shortly turn your prison to a useful national purpose."
The previous month, Michael Collins had organised the escape of Eamon de Valera from Lincoln Prison in England. Now he followed that and the Barton escape with a more ambitious plan for Mountjoy. The prisoners chosen for escape were Pádraic Fleming, senior IRB man Piaras Beaslaí and J.J. Walsh TD.
In broad daylight, a rope ladder was thrown over the Mountjoy wall into the exercise yard, which was filled with republican prisoners. Fleming, Beaslaí and Walsh climbed over as warders were held at bay by five prisoners using spoons in their pockets to look like revolvers. Seventeen more prisoners managed to climb out on the rope ladder and all got clean away.
Twenty republican prisoners escaped from Mountjoy on 29 March 1919, 90 years ago this week.
An Phoblacht Magazine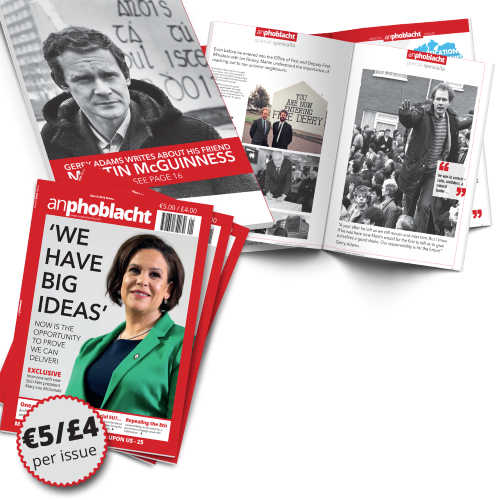 AN PHOBLACHT MAGAZINE:
The first edition of this new magazine will feature a 10 page special on the life and legacy of our leader Martin McGuinness to mark the first anniversary of his untimely passing.
It will include a personal reminiscence by Gerry Adams and contributions from the McGuinness family.
There will also be an exclusive interview with our new Uachtarán Mary Lou McDonald.
test