26 March 2009 Edition
More than a game By Gael Gan Náire
All manner of Jackeens
HIS NIBS, Mr Matt Treacy, has apparently taken French Leave again. Off drinking pints of Heino, no doubt, with that bloody shower and singing songs about cartoon bears with the alickadoos with their collars turned up and cooking fat or some gunge to make their hair stand up. This is the sort of thing they do be singing:
I know a bear that you all know,
Yogi, YOGI,
I know a bear that you all know,
Yogi, Yogi Bear.
YOGI, YOGI BEAR,
YOGI, YOGI BEAR,
I KNOW A BEAR THAT YOU ALL KNOW,
YOGI, YOGI BEAR.
The Lord save us. Is that what they go to Trinity College and UCD to learn? And I am sparing you the worst of it because it descends into pure filth, but then what could you expect from that shower, and especially the Jackeen ones. If there's one thing worse than a Jackeen it's a Jackeen with his stupid collar turned up who calls the train 'the DORT', whereas the rest of the guttersnipes call it 'the DERT'. Mother of God, as a nation we'd be better off building a wall around them.

A Jackeen that gives a man a puck in the gob when he's facing him rather than a sly thump in the back of the head or with a hatchet 
In fairness, there is one Jackeen that I will take my hat off to this week and that is Bernard Dunne. A Jackeen that gives a man a puck in the gob when he's facing him rather than a sly thump in the back of the head or with a hatchet and running off down some back alleyway with your wallet and probably your best pipe.
And in fairness to him as well, he had The Soldier's Song played and looked to be even singing the words! His parents are probably from Tipp, I'd say. I used to box myself when I was young. A few of us young fellas would get stripped and have at each other. Glorious days.



I SEE the Jackeen is still at the hurling. I suppose you have to give them some credit for that but you'll find that most of their parents are from Tipp, I'd say. Mind you, their names are not those that would lie sweet on the ear around Holycross or even Upperchurch. Dotsie and Crabber and Anto and Vinnie. In the name of the Divine Lord. Is it a bloody hurling team at all or the feckin' Sopranos?
There are lads on the team with fine names like Tomás and Ronan and Liam but, of course, nothing will do the Jackeen but to call them 'Tommo' and 'Roey' and 'Liamo' or 'Rushey'. Is it Hell's Kitchen they were reared in?



AND what about Waterford? You would expect more from them now than to lie down like that, especially after giving the Cats a bit of a licking a few weeks back.
And then you had Davy Fitz making excuses for them, saying they'd been watching that other crowd and then stayed up late past their bedtime to see the boxing match! Jaysus, is it a shower of jibbers they are?
I mind the time when we used to stay up until after 12, dancing The Walls of Limerick and maybe a hand of 45 and then up at six to feed the beasts and go to Mass and then walk 10 miles to play a match and then back again for tea and maybe out that night for drilling or a parade or to bate some lad. And not a word about it.
Mind you, they have a Clare man in charge now.
Now the Claremen are alright, generally speaking, although there are those down our way would claim they introduced a low element into the game which disrupted the natural order of things for a while, but we'll come back to that.
And sure don't the Jackeen have one of them in charge of matters now? That only just occurred to me. Sure that explains the whole thing entirely. The Jackeen and the Clareman. Sure 'tis like crossing a hyena with a scorpion. No good will come of it. Mark my words.



WELL,  the Jackeen is hurling below in the field on Sunday and I'll say no more about that until I hear more, as they say.
There'll be a few of them mammy's boys calling for their mammies. Either that or they will do their other trick – 'sledging' I think they call it among themselves – and try to decapitate lads or perform renal surgery with the butt end of their sticks. A nasty crew.
And your man will be up to all sorts of tricks, you can be full sure of that, but class and manliness will tell in the end.
I had a mind also to talk about some other matter but it is gone clean out of my head. A glass of whiskey is alright in its place but not too much. Bear that in mind.
Good luck now and maybe you will hear more from me when that lad goes AWOL again or forgets to pass The Windjammer some Monday morning. No better buachaill than myself to step into 'The Gap of Danger'!

An Phoblacht Magazine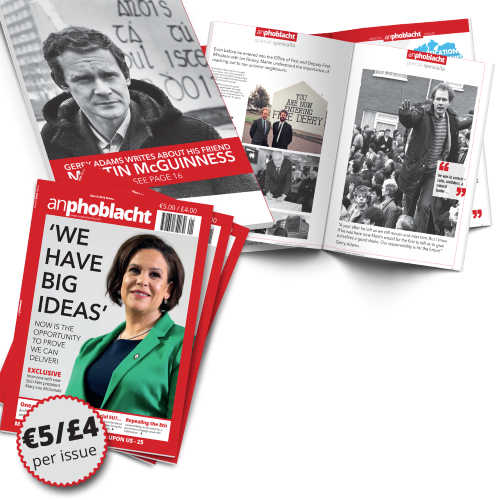 AN PHOBLACHT MAGAZINE:
The first edition of this new magazine will feature a 10 page special on the life and legacy of our leader Martin McGuinness to mark the first anniversary of his untimely passing.
It will include a personal reminiscence by Gerry Adams and contributions from the McGuinness family.
There will also be an exclusive interview with our new Uachtarán Mary Lou McDonald.
test