26 March 2009 Edition
Media View By JULIA CARNEY

Dirty rotten scoundrels
GARRET FITZGERALD emerged from his Dublin 4 bunker to attack the IRA's campaign in his Irish Times column last Saturday for having led to "output per head in the North falling behind that of our state for the first time". Output, eh?
A lifelong partitionist, FitzGerald's argument is that the IRA campaign put back the cause of unity because it undermined the Northern economy. No doubt when his ancestors were fighting the British during the Tan War it was simply to boost share prices on the London Stock Exchange. "What ho, Charles, that Tom Barry chap just killed some of our lads in a place called Ballykilmichael or something. That'll boost the FTSE!"
His piece doesn't bother to address the causes of the conflict in the North, the sectarianism of the Stormont administration, or Britain's role in economically devastating nationalist communities.
Instead, he sees a world where the IRA spontaneously, and for no apparent reason, got up one day to lower the North's industrial output. Scoundrels.
I do agree with him though when he criticises the "persistent exclusion of economic factors from the approaches both of political historians and of contemporary political commentators on Northern Ireland (sic) matters".
Too true, Garret. I look forward to your article looking at the economic merits of ending partition, dismantling the unnecessary duplication of services and an all-Ireland approach to attracting investment.
Any day now.


MOVING to The Sunday Tribune, where there was a lovely piece from Ali Bracken taking "undercover journalist turned celebrity ice skater Donal MacIntyre" to task. Seems Donal did a programme on Dublin for his British TV show, World's Toughest Towns, on Bravo.
Could have done with a bit of fact-checking, though, as Bracken systematically dismantles his claims.
"This is Dublin, my home town (he's actually from Celbridge in Kildare)... The use of car-bombs has increased 300 per cent since 2007 (a Defence Forces spokesperson says there hasn't been one since the Dublin/Monaghan bombings)... Every day in Ireland, someone dies from a drug overdose (actually about 70 to 80 a year; still too high, obviously, but not the hundreds MacIntyre suggests)."
He moved on to claim that Drimnagh is on the northside, (which will horrify members of the Charlie McGlade Cumann), that Dublin criminals executed a Garda sniffer dog, and various other inflated bits and bobs.
On one level it's kind of amusing to see a journalist get the basics so wrong. On another, it's just this kind of inaccurate, sensationalist journalism on crime that can force governments to introduce regressive or useless legislation like ASBOs instead of dealing with the problem.


ON the back page of the Trib, Michael Clifford writes on the imprisonment of Maura Harrington of the Shell to Sea campaign.
In a relatively even-handed piece he supports Harrington's sentencing for assaulting a garda but focuses in on Judge Mary Devins's suggestion that the Mayo activist be psychiatrically assessed.
"Why attempt to humiliate her or stain her with the suggestion that she was not fully aware of her actions?" he asks.
"There was a time when figures of authority used deficient mental health as a cover for locking up or silencing somebody regarded as a pain in the butt. We were supposed to have moved on from then... Mental health isn't something to be bandied about by those in authority as a weapon or threat."
Clifford's is the only piece I've seen on Harrington's conviction that really looks at the dangers of judicial figures making these kind of pronouncements.
It stands in stark contrast to Peter Murtagh's recent piece in the Times smearing Maura Harrington and trying to connect her, and the Shell to Sea campaign, to the killing of PSNI Constable Stephen Carroll. He managed to hold off accusing her of taking out Kennedy on the grassy knoll, but only just about.

An Phoblacht Magazine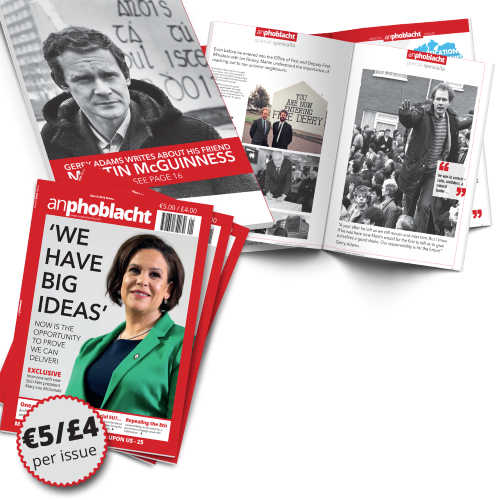 AN PHOBLACHT MAGAZINE:
The first edition of this new magazine will feature a 10 page special on the life and legacy of our leader Martin McGuinness to mark the first anniversary of his untimely passing.
It will include a personal reminiscence by Gerry Adams and contributions from the McGuinness family.
There will also be an exclusive interview with our new Uachtarán Mary Lou McDonald.
test