26 March 2009 Edition
The Mitchel McLaughlin Column
Public appointments overhaul needed
THE past decade has witnessed many tribunals of inquiry in the 26 Counties into corruption in public life, from politicians taking bribes, fixing planning applications, and granting exploration licences to multinational conglomerates at absolutely no benefit to the people of Ireland.
Additionally, in the North, since the re-establishment of political institutions after almost 40 years of rule by unaccountable direct rule ministers and civil servants, the Assembly scrutiny committees are now beginning to uncover many examples of abuse of trust and bad practice.
Most reasonable people will hail the belated measures now being taken to address the devastating consequences of permitting the banks to operate virtually unregulated. While it is a welcome development, many will feel that these new measures are still not extensive enough. They also want to see new standards set for public appointments.
The citizens of Ireland have been afflicted for too long with a system of cronyism and unelected quangos that have provided very lucrative lifestyles to a favoured few. Indeed, some of the 'chosen people' seem to rotate from one unelected body to another, some individuals serving on multiple quangos simultaneously!
It is time that government replaces the current bureaucratic gravy train that is the current system of public appointments and quangos with one that is non-partisan and accountable.
There is a growing demand in society for a wide-ranging, root-and-branch reform of all aspects of public life, particularly in the manner in which appointments to public bodies, government agencies and the judiciary are made.
These appointments should not be allocated as a form of cronyism or reward for political patronage.
Appointments should be made only on the basis of qualification and objective criteria, not at the whim of government parties on the basis of political favouritism.
All such vacancies should be publicly advertised and applicants should be required to undergo a recruitment process that is open and transparent.
 It is time for the Oireachtas and the Assembly to create Public Appointment Tribunals to conduct appointments in the interests of open government. These Public Appointment Tribunals should have a membership which is expert, representative and non-partisan. They should function on a non-remunerated basis (i.e. vouched expenses only) which reflects the paramount principle of public service. In other words such Public Appointments Tribunals should reflect a standard of public service that we demand of those who seek public appointments.
More than ever, the people are demanding transparent and open government. It is paramount at a time when confidence in the political system is at an all-time low and the economy is in crisis that all measures possible are taken to deliver the necessary change through government structures that are open and at all times accountable to the people.
The people are demanding change in the delivery of government programmes and they require accountability from their politicians. There is also an unprecedented opportunity to address weaknesses in public administration and standards in business and commerce. If politicians do not deliver change then the electorate will change its politicians.

An Phoblacht Magazine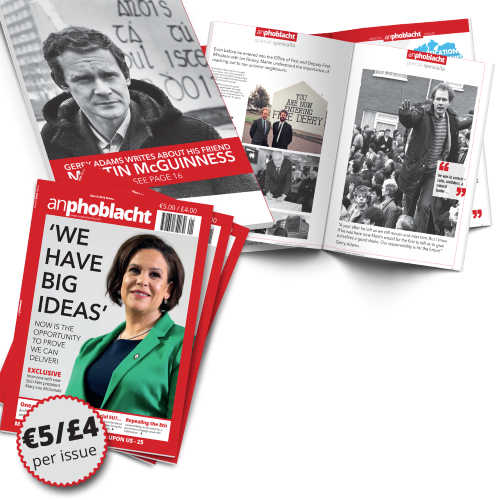 AN PHOBLACHT MAGAZINE:
The first edition of this new magazine will feature a 10 page special on the life and legacy of our leader Martin McGuinness to mark the first anniversary of his untimely passing.
It will include a personal reminiscence by Gerry Adams and contributions from the McGuinness family.
There will also be an exclusive interview with our new Uachtarán Mary Lou McDonald.
test