19 March 2009 Edition
Two tax systems costs jobs
THE recent admission by Finance Minister Brian Lenihan that his decision to increase the South's VAT rate last October was a mistake is a welcome development.
In a submission to government in advance of the October budget Sinn Féin called for a modest reduction in VAT in the 26 Counties. The party argued that such a reduction would boost the incomes of low and middle income earning families and would stimulate consumer spending.
While Brian Lenihan's admission that the government got it wrong on VAT may be welcome, the Irish Government's failure to tackle the ongoing negative impact of the VAT differential on the island has not been acknowledged, and retailers, particularly in the border counties are paying a heavy price.
Unprecedented times call for unprecedented measures. What is needed now is for political and business leaders to deliver innovative solutions to regain economic prosperity for the entire island.
The problem caused by two competing taxation regimes on the island has been an ongoing problem for retailers and service providers.  In the current economic climate and with the sterling/euro exchange rate, the problem has been exacerbated. Small and medium businesses in border areas are taking the hardest hit and the potential jobs losses for the retail sector in the South is set to run into tens of thousands.
Immediate steps to tackle this problem should include a reversal of the government's half a per cent increase in VAT. Retail outlets need to equalise the sterling euro currency differential and the government must put sufficient pressure on retailers to pass on these savings to consumers in the 26 Counties. Large food retailers must also pass on savings made from purchasing stock in the North and Britain.
However the government's longer term strategy must involve the harmonisation of taxation North and South. The existence of two taxation regimes on a small island simply does not make sense. This approach by both the Irish and British governments fosters economic distortions across the island and deepens the economic instability and social deprivation experienced in border counties as a result of partition.
An Phoblacht Magazine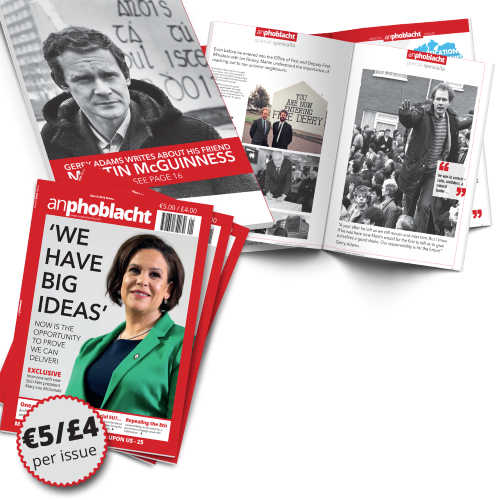 AN PHOBLACHT MAGAZINE:
The first edition of this new magazine will feature a 10 page special on the life and legacy of our leader Martin McGuinness to mark the first anniversary of his untimely passing.
It will include a personal reminiscence by Gerry Adams and contributions from the McGuinness family.
There will also be an exclusive interview with our new Uachtarán Mary Lou McDonald.
test