12 March 2009 Edition
More than a game BY MATT TREACY

Headlong gallop to the bookies
CONTRARY to the rumour that my daily reading consists of the Racing Post (and that apparently I spent all of my time in the Big House listening to cricket on the BBC World Service!), I no longer pay much heed to the racing of horses. And no, not because I think it is cruel but because there are more predictable sports to bet on.
However, my interest always revives during Cheltenham.
My first bet, other than the bets that my father used to put on for us in the Aintree Grand National, was on a horse called Buck House which won the Supreme Novices Hurdle there in 1983. It was 4/1 so I got a fiver back for my troubles. That laid the basis for what was effectively a mini-career for several years until the siren cry of Caitlin Ní Houlihan proved to be more enticing.
The foundation of my success was a most uncharacteristic lapse on the part of the local bookmaker. He used to allow punters take early prices from the old Sporting Life, so what I used to do was pick two or three horses which had been selected by all or most of the tipsters listed in the paper and put them in doubles and trebles.
The flaw from the bookie's perspective was that if a horse's likely SP was given in the Sporting Life as, say, 6/4 or evens that it was sure to start much smaller because it was so widely tipped and, of course, the reason it was so widely tipped was that it was clearly the outstanding horse in the field.
From my standpoint it meant that I was getting up doubles and trebles of 5, 6 and 7/1 on horses that were returned sometimes as low as 1/4. Of course, it couldn't last and one morning as I went to collect my winnings the woman behind the counter asked me what age I was. To which an oul fella behind me replied: "He's a f***ing day older than when you took the bet off him!"
But that was that. None of the other nearest bookies provided the same service so I was forced to embark on the study of form which, due to the amount of time I invested in it, allowed me to accumulate enough money to put £200 on Dublin to beat Kerry in the 1984 All-Ireland Final. Well, I don't need to tell you what happened there...



THE highlight of my precocious betting career, however, was the 1986 Gold Cup, won by Dawn Run. I had backed her for months before the race and won enough to go on an Inter-Rail journey across Europe that summer. I knew Dawn Run was entered in a race in Auteuil and we had vague plans to go to see it but that never transpired and it was only when I got back to Ireland I heard that she had died on the course. Anyone who doubts the allure of steeplechasing and the phenomenon that was Dawn Run should watch the 1986 Gold Cup on YouTube.
Then Ireland called and instead of becoming Harry Finlay I became a Felon of Our Land. But, of course, being banged up did not prevent us betting, although we didn't physically have cash on us. Instead, the currency was Mars bars, apple tarts, steaks, fries and so on.
The main subject of betting was GAA matches and the early 1990s were a bad time to be betting on the Dubs, especially in finals. But the most costly one was the epic series against Meath in 1991 after which, I think, I was feeding most of the jail. Indeed, had it not been for the kindness of the only Meath man there, Yasser, who shared his largesse with me, I might have starved.



MY father also supplied me with tips on a horse which, ironically, was owned by a rival republican organisation. Being then of egalitarian bent, I, of course, shared the information and several of us (and a goodly number of Screws I subsequently
Anyone who doubts the allure of steeplechasing and the phenomenon that was Dawn Run should watch the 1986 Gold Cup on YouTube 
discovered!) cleaned up as the said horse won first its maiden bumper and then three hurdle races in succession before mysteriously disappearing from the racing world. I think it might have been called Desert Oasis.
Anyway, what brought it all back was the advent of another Cheltenham and the proliferation of tips and rumours. Fortunately, I managed to ignore all of the ones given to me for opening day on Tuesday as they all lost. A rock of sense as ever.

An Phoblacht Magazine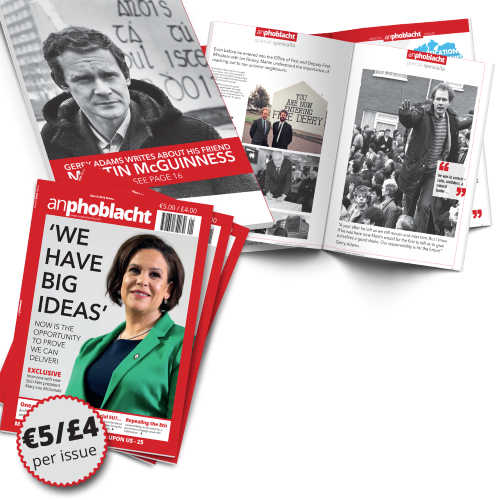 AN PHOBLACHT MAGAZINE:
The first edition of this new magazine will feature a 10 page special on the life and legacy of our leader Martin McGuinness to mark the first anniversary of his untimely passing.
It will include a personal reminiscence by Gerry Adams and contributions from the McGuinness family.
There will also be an exclusive interview with our new Uachtarán Mary Lou McDonald.
test