12 March 2009 Edition
Peace Process under attack
Two gun attacks in the past week, in Antrim and Armagh have threatened to undermine the Peace Process and the political progress that has been made in recent years in the North. They will not succeed.
These attacks, which have been claimed by tiny, unrepresentative gangs with no political strategy, are direct attacks on the Peace Process.
Neither the groups responsible nor their actions have any popular support in this country North or South.
For many years An Phoblacht rightly defended the IRA and its armed struggle against British rule in Ireland. We make no apology for that. We defended the armed actions of the IRA when there was no viable, peaceful political way forward for those seeking their rights in the Six Counties or to bring about the reunification of Ireland.
The political context in 2009, however, is entirely different. Irish republicans remain committed to ending British rule in Ireland and there is a live, viable republican strategy to do this. The political landscape has been transformed in recent years. Republicanism has built unprecedented political strength aimed at bringing about fundamental political, social and constitutional change.
The cause of Irish unity is moving forward. Sinn Féin is seeking to build a united Ireland through maximising popular support and uniting the greatest number of people in support of national democratic objectives.
The republican political strategy was as much a target of these recent violent attacks as those who were killed or injured. But republicans will not allow the gains that have been made in the struggle for a united Ireland to be thrown away through the actions of those responsible for these attacks or by any knee-jerk response by others.
Irish republicans have made huge sacrifices and put in years of effort to build the Peace Process. We have a duty now to defend it and the progress that has been made towards achieving Irish national rights.
The British Government and the PSNI must resist any pressure to return to the bad policing practices of the past. This would be politically disastrous and play into the hands of those who carried out the attacks in Antrim and Armagh. It is essential that accountable, civic policing in the North is further developed and adhered to. Irish republicans will work with the PSNI to ensure that those involved in these attacks are apprehended and subjected to due process.

An Phoblacht Magazine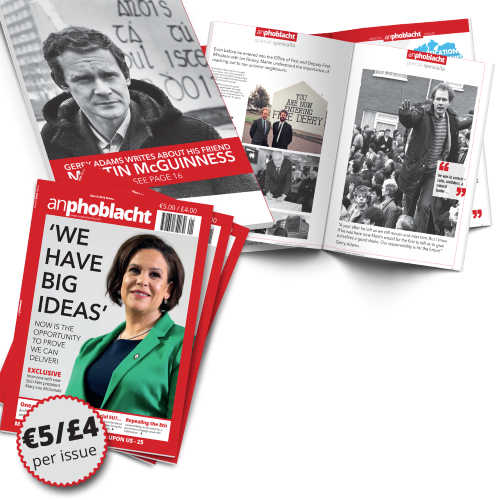 AN PHOBLACHT MAGAZINE:
The first edition of this new magazine will feature a 10 page special on the life and legacy of our leader Martin McGuinness to mark the first anniversary of his untimely passing.
It will include a personal reminiscence by Gerry Adams and contributions from the McGuinness family.
There will also be an exclusive interview with our new Uachtarán Mary Lou McDonald.
test