5 March 2009 Edition
Fifth Column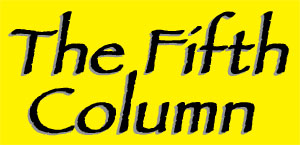 Donegal senator's Full Monty
IN THE debate on regenerating the West of Ireland sparked by the report spearheaded by Sinn Féin Senator Pearse Doherty, Fianna Fáil Senator Cecilia Keaveney admitted the failures of Fianna Fáil in government, saying that "we have done nothing to develop opportunities on the water" (like a helicopter taxi service used by Minister Martin Cullen?). And Cecilia, you're breaking my heart with your other idea.
One of her solutions to tackling decades of regional underdevelopment includes using the fact that British Army war hero Field Marshal Viscount Montgomery of Alamein "lived in Moville between the ages of three to 15".
Cecilia asked
"Why do we not exploit the English tourists who wish to come and see where Monty grew up or to see where his parents were buried?"
("Exploit" English tourists? I suppose it's a short hop for Fianna Fáil from exploiting Irish and other EU workers so why not English tourists too.  Anyone for a 'Monty was here' or 'Movile Loves Monty' T-shirt?)
And Cecelia brought tears to our eyes when she mistily mused:
"I also refer to simple things like the castle at Greencastle. Were it lit up in a similar manner to some other abbeys and castles, and with some signage, people using the car ferry coming across the Foyle would see it as an attraction." Donegal can wait for broadband once there are night lights at Greencastle!


Green Party TD laid bare
HOT PRESS interviews with TDs tend to be a bit 'out there, man', being the alternative culture and music mag beloved of yoof, recycled rockers and Killian Forde, but the current edition's interview with Green Party TD Paul Gogarty is something else.
Gogarty is out there in more ways than one. He's out there in Dublin Mid-West and he's out there in the media being critical of the Fianna Fáil/Green Party coalition but reluctant to pull the plug on it.
The Green TD has an earthy analogy for his colleagues' coupling with Fianna Fáil.
Hot Press: "The Greens have effectively got into bed with Fianna Fáil."
Paul Gogarty: "Put it this way, if you get into bed with anyone you have prostituted yourself! We are lying there bollix naked next to Fianna Fáil. We've been screwed by them a few times, but we are hoping we can roll them around to get what we want, over the longer term. We have more staying power!"
Too many images, Paul. Too many images.


Incorporation once again
DÁIL backroom bod for the Sinn Féin team at Leinster House, Wendy Lyons, has been irked by continuous references in these straitened financial times to "Ireland Inc".
"Who came up with this stupid 'Ireland Inc' phrase? I wish it would stop," Wendy fumes.
I agree, Wendy, especially when Dublin-based commentators insist on referring to the 26 Counties as "the country" or "Ireland" when they actually mean "the state".
A 32-county Ireland — now that's really Ireland Incorporated.


The case of the cocaine cop
THE captain of the PSNI rugby team – a veteran of the RUC with more than 20 years' service even though he's only 41 — has just been fined £1,000 for possessing ecstasy and cocaine but Constable Steven Walton wasn't playing fair when he was first caught. He tried to frame his brother.
Walton told arresting officers that the stuff (hidden in a Vick's inhaler) was his brother's and the snorting policeman was on his way to show their mammy what his bold brother was allegedly up to. Four days later, though, the rugger bugger, probably realising the game was up if the Drugs Squad visited Ma Walton, confessed that the drugs were his.
Even though he resigned when he was nicked, Walton's address was given as c/o Lisnasharragh PSNI station.
In court, his defence said that the RUC veteran's cocaine abuse was in no way connected to the high pressure environment of his "special work" within the police.


Joe Duffy's royal red carpet
JOE DUFFY used to be a radical student leader in the 1980s before he succeeded Gay Byrne to the throne as king of chat on RTÉ Radio 1, now tasked with winding up the Irish public on his afternoon talk show, Liveline.
But it's over in his column in the Irish Mail on Sunday that the former student prince has launched his latest wind-up: he wants the British queen to visit Dublin to cheer us all up.
The heir to the Swedish throne is about to marry her personal trainer. This prompted Duffer to thinking "we need an event of similar power to give us a much-needed lift". If we can welcome the English rugby team to Croke Park, reasons Joe ("welcome" is stretching it a bit), then why not the British head of state.
Now if Queen Elizabeth were to ditch Prince Philip to shack up with Mr Motivator or Wolf from Gladiators that might cheer even me up a little. A visit by Queenie, however, with its attendant multi-million security operation and much forelock-tugging by Brian Cowen, Enda Kenny, Eoghan Harris and Bono, and acres of fawning by the Irish Times and Sunday Independent, is unlikely to raise a cheer under the Starry Plough hoisted by Waterford Crystal workers and other citizens of Ireland facing the dole.

An Phoblacht Magazine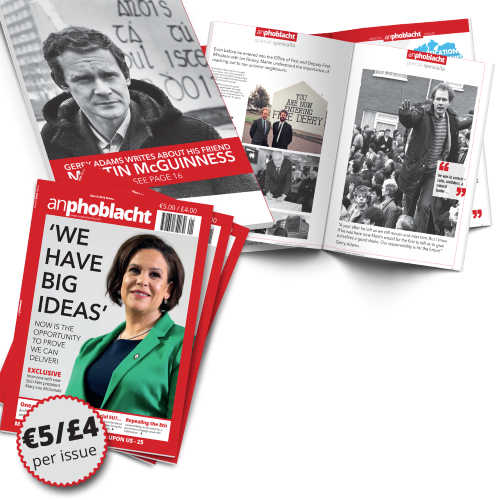 AN PHOBLACHT MAGAZINE:
The first edition of this new magazine will feature a 10 page special on the life and legacy of our leader Martin McGuinness to mark the first anniversary of his untimely passing.
It will include a personal reminiscence by Gerry Adams and contributions from the McGuinness family.
There will also be an exclusive interview with our new Uachtarán Mary Lou McDonald.
test