5 March 2009 Edition
More than a game BY MATT TREACY

Running with the hares
THERE seems to be an air of triumphalism among those who succeeded in committing Sinn Féin to support banning hare coursing. Another box ticked on the list of things to do to impress people who, believe it or not, still despise republicans. But, sure, there you go!
I suspect that when many people decide to ban things that they actually don't know anything about, have never actually seen themselves, and are ignorant of its history and culture, that they are, in the main, demonstrating a rather disturbing desire to interfere with things that are of no concern to them.
Bien pensant liberals would get highly irate if, for example, the Irish Coursing Club decided to pass a motion calling for gay bars to be closed down. 'Oh my god, like, what has that to do with them?' Indeed, it would have nothing whatsoever to do with them. And likewise it is not in the gift of anyone to decide to outlaw a centuries-old tradition just because it offends some ersatz sensibility. Which is all the more ludicrous when some of its advocates are festooned in T-shirts depicting revolutionary heroes, for example. The day you decide to become a pacifist then get back to me on the chasing hares around fields bit.



WHAT sport will be the next to be proposed to be banned? Greyhound racing? Horse racing? Angling? Or all sport because, at the end of the day, sport and other frivolity surely distracts people from concentrating on 'the Revolution'.
That was what the Khmer Rouge thought anyway, which was why they banned all sport and other forms of entertainment and recreation. Get up in the morning, work in the paddy fields (or whatever the Irish equivalent would be), get back to the communal dormitory and attend a workshop to help you eradicate any reactionary instincts you might be harbouring, go to sleep and then get up and do it all again. I can hardly wait.



HURLING may have earned itself a place on the list after Declan Prendergast's wild pull on Eddie Brennan in what was otherwise an intense and entertaining game last Sunday between Waterford and Kilkenny. There is certainly an edge to these encounters which is fairly recent, possibly originating in Waterford's victory over the Cats in the 2007 league final.
Of course, Waterford will also have been motivated by the desire to restore caste following their ignominious defeat in the All-Ireland final. They did so on Sunday and it will form an important stage in Davy Fitzgerald's campaign to restore morale and put Waterford in a position to again seriously challenge for the highest honour.
One suspects that Kilkenny, still well short of their likely championship team, will not be overly concerned by the result and one gets the impression that, unlike in previous years, they are perhaps not too concerned about reaching the play-off stage, which this year will consist of a final between the two top teams.



TIPPERARY are currently leading the pack, followed by Dublin, Waterford and Limerick on four points, Galway and Kilkenny on two and Clare and Cork propping up the table with no points to date. The only certain thing at this stage is that Cork will be relegated.
Dublin missed the opportunity to remain in contention for that final slot when missing late chances to draw against Limerick. Having said that, Limerick had a good number of wides and just about deserved to be in front at the end. Both Justin McCarthy and Anthony Daly will have seen reasons to be pleased about their new charges. It was a tough physical game on a sanded surface that was not conducive to hurling but there was an intensity and commitment that will be a crucial foundation when it comes to the championship.
It is impossible to predict who will reach the final although Tipperary look well placed and the deciding factor could well be points difference based on the scale of the defeat each manages to inflict on Cork. As the series of hammerings proceeds, even the brave talk from the McCarthy camp about Cork players giving their all is beginning to lose its bite. While no one doubts their commitment it would be foolish to pretend that the current side is anything but a pale shadow of what a Cork hurling team should be.
The day you decide to become a pacifist then get back to me on the chasing hares around fields bit 

The result that most grabbed the attention of Dublin supporters returning from Limerick, however, was in Division Two, where Antrim staged a comeback to beat Wexford. That throws the promotion issue into the air although the decisive game is still likely to be that between Offaly and Wexford.
From a Dublin perspective it will concentrate minds on their championship quarter final with Antrim on 7 June. With another season in the top flight secure, the year will revolve around that and possible progress beyond it. Anything from the league beyond staying in Division 1 and being competitive against the top teams is a bonus and at the end of the day will hardly be recalled once the summer begins. 

An Phoblacht Magazine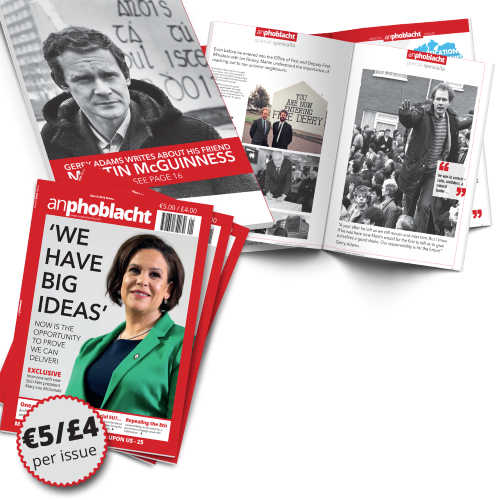 AN PHOBLACHT MAGAZINE:
The first edition of this new magazine will feature a 10 page special on the life and legacy of our leader Martin McGuinness to mark the first anniversary of his untimely passing.
It will include a personal reminiscence by Gerry Adams and contributions from the McGuinness family.
There will also be an exclusive interview with our new Uachtarán Mary Lou McDonald.
test