5 March 2009 Edition
Ógra Shinn Féin solidarity in Corsica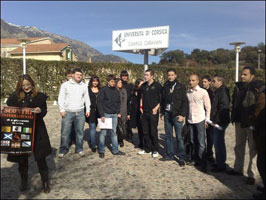 ÓGRA Shinn Féin recently attended an international youth festival in Corsica, the Scontri Internaziunali, organised by youth movement Ghjuventú Indipendentista, and held in Corte, the historic capital of the Corsican nation.
The festival was celebrating the diversity of culture, language and heritage in small occupied nations and various movements' struggles for emancipation and freedom.
There were delegations from Kanaky (South Pacific) and Kabilia (North Africa) who participated in various internal workshops and public debates on minority languages and globalisation.
Ógra activist Marcas Ó Mhaoldomhnaigh said:
"International festivals like the Scontri Internaziunali help build networks, understanding and solidarity between those who struggle for freedom across the world.
"The main talk of the week was on globalisation and we talked about the need for more co-operation between nations, that we are for a European Union but a social Europe with a social Ireland playing a progressive role in it."
Delegates and the Corsican public where particularly interested in the Irish defeat of the Lisbon Treaty, which the Ógra spoke at length on, highlighting Ógra and Sinn Féin's role in ensuring a successful 'No' vote.
"We outlined our position in Europe and global co-operation to that of James Connolly's 'a free federation of free peoples'.
"We also addressed the issue of minority languages and spoke about the current state of the Irish language across Ireland. We focused on the campaign to get Acht na Gaeilge implemented in the North and the benefits that this would bring in the promotion of the Irish language."
The Scontri Internaziunali was very beneficial in extending knowledge of other struggles and helping build up solidarity links and working relations with various movements, he said.
"There is an awful lot of positives that can be gained from international solidarity actions like these, not least the sharing of ideas but also the reassurance that we are not alone in our struggle for independence in Ireland."