5 March 2009 Edition
Taoiseach failed to press British PM with Dáil vote on Dublin/Monaghan bombings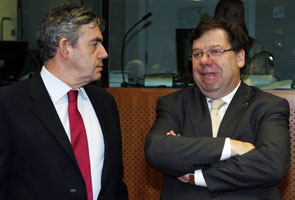 Cowen stands idly by
TAOISEACH Brian Cowen has been urged by Sinn Féin in the Dáil to hold a special summit meeting with British Prime Minister Gordon Brown on collusion.
The call came after the Taoiseach admitted in the Dáil that he had not yet discussed with Gordon Brown last year's unanimous resolution of the Dáil urging the British House of Commons to address collusion, including the Dublin and Monaghan bombings of May 1974.
Cavan/Monaghan TD and Sinn Féin Dáil leader Caoimhghín Ó Caoláin questioned the Taoiseach in the Dáil, asking:
"Has the British prime minister indicated to the Taoiseach that the decision of the Dáil and the Seanad is scheduled to be addressed in Westminster?
"Will he undertake to revisit this matter with the British prime minister at the earliest opportunity?
"Does the Government have any plans to mark the sad occasion of the 35th anniversary of the tragedy that visited Dublin and Monaghan, which will fall within a matter of weeks?"
The Taoiseach replied that he had "not raised it specifically" with British Prime Minister Gordon Brown "at any of the meetings I have had with him on specific issues".
The Fianna Fáil leader continued:
"We all recognise that this is one of the problems that has arisen from the Troubles of the past. Despite the best efforts of everyone, including most eminent legal counsel and judges, there has been a failure to get to the full truth of everything. They have brought it as far as they can bring it, unfortunately.  We will continue to see what can be done in addition to what has already been achieved."
Deputy Ó Caoláin expressed disappointment at the statement of the Taoiseach that he had not discussed the matter with the British prime minister and that matters had been brought "as far as they can bring it" and he pressed for an early Cowen/Brown summit on collusion.