5 March 2009 Edition
Four found guilty of sectarian murder of 'Mickey-Bo'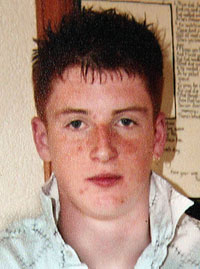 BY EMMA CLANCY

THE family of murdered Ballymena teenager Michael McIlveen welcomed the 25 February guilty verdict in the case against four men accused of killing the Catholic schoolboy in a sectarian attack in May 2006.
Outside the court, Michael's sister, Jodie, read a statement on behalf of the family:
"We now feel that justice has been done for Michael.
"We now want to take this time to thank the witnesses who came forward and told their story, and the police, prosecutors, friends and family. The McIlveen family sympathises with the families of the accused. Now the trial is over, we can try and rebuild our lives."
After a 52-day trial, the Antrim Court jury took just over seven hours to hand down their unanimous judgments.
Ballymena men Jeff Colin Lewis (19), Christopher Francis Kerr (22) and Aaron Cavana Wallace (20) were convicted of murder and sentenced to life in jail; Christopher Andrew McLeister (18) was convicted of manslaughter. The four say they plan to appeal the verdict.
Mervyn Wilson Moon (20) had earlier pleaded guilty to Michael's murder. Sentencing for Moon and McLeister has been adjourned until April, when Lewis, Kerr and Wallace will also learn the minimum terms they must serve before being considered for release.

NO OTHER REASON
Michael McIlveen – known to friends as 'Mickey-Bo' – died in hospital from head injuries on 8 May 2006, after he was set upon with a baseball bat by a unionist gang who chased him and a friend.
The jury was told that Michael was killed "for no other reason than that he was a Catholic" in a "brutal and savage sectarian attack".
On 7 May 2006, Michael and his friend had set out across Ballymena to meet up with a Protestant friend in Harryville and were later chased by a sectarian gang. The jury heard that Moon "nailed" Michael with a baseball bat, which he swung like a golf club, and that Michael was kicked repeatedly in the head by the gang.
Michael's skull was fractured on both sides and he suffered a blood clot and bruising to the brain. He died in hospital the following day.
Michael's 2006 killing was the culmination of a series of virulent sectarian attacks against nationalists and Catholics in the greater Ballymena area, including paint, petrol and pipe-bomb attacks on Catholic homes, schools and churches.
The PSNI recorded 133 sectarian attacks in Ballymena in the year leading up to the fatal attack on Michael McIlveen, 57 per cent of which were directed against Catholics. These attacks included a Catholic teenager being stabbed in a Ballymena shopping centre in April 2005.
In the summer of 2005, nationalist families in the north Antrim village of Ahoghill, neighbouring Ballymena, were intimidated out of their homes after a sustained series of arson attacks by unionist mobs. The attacks were so widespread that police issued fire blankets to Catholic families that summer.

FAILURE OF LEADERSHIP
The total failure of leadership by unionist politicians in the DUP heartland of Ballymena – the failure to challenge the idea that such sectarian attacks were acceptable – without a doubt allowed the situation to reach the point where a 15-year-old boy was beaten to death.
Following Michael's murder, Ian Paisley Jnr said people should not "jump to the conclusion" that the attack was sectarian. In the weeks after Michael's death, the single Sinn Féin councillor on Ballymena Council proposed that the council establish an anti-sectarian forum. DUP councillors drummed on their desks and whistled as the Sinn Féin councillor made her proposal, refusing to back it.
In the months after the murder, an electricity sub-station near where the attack had happened, which had turned into a memorial to Michael after messages of sympathy were written on it, was attacked by paint-bombers.
The tragic death of Michael McIlveen prompted an anti-sectarian project among Ballymena's post-primary schools, backed by many bodies including the Department of Education, the Irish Government and the Housing Executive. Efforts by civic society in the town have made some progress over the past few years in breaking down sectarianism.
While a robust denunciation of sectarian prejudice and violence has yet to be forthcoming from many unionist political leaders, the successful prosecution of those responsible for Michael McIlveen's murder sends out a signal that the days of violent sectarian attacks being carried out with impunity are over.
SICK: Twelfth bonfire taunt over murder of Michael McIlveen