26 February 2009 Edition
Gaza and Lisbon Ard Fheis focus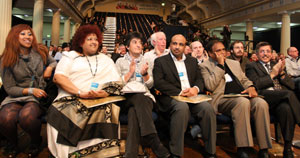 Sinn Féin Ard Fheis 2009

BY EOIN Ó BROIN
 
TWO key themes dominated the International and European Union sections of the 2009 Sinn Féin Ard Fheis, namely Gaza and the Lisbon Treaty.
Speaking on Friday evening, Aengus Ó Snodaigh TD proposed the Ard Chomhairle emergency motion on Gaza. West Belfast MLA Paul Maskey urged people to support a related motion criticising the BBC and Sky TV for failing to broadcast the Gaza Emergency Appeal advertisement. Mícheál Mac Donnacha successfully proposed an amendment to the Ard Chomhairle emergency motion reiterating Sinn Féin's position on the use of Shannon Airport of US troops, asking, "Where are the Greens now?" and suggesting that they should "change their logo from a sunflower to a banana as they started out green, turned yellow and are now rotten".
Caoimhghín Mic Giolla Mhin from west Belfast and Laura Gildernew from Tyrone Ógra Shinn Féin spoke in support of motions on the ongoing situation in the Basque Country. Gildernew said that Ógra stands "shoulder to shoulder" with the independence movement in the Basque Country and called for a democratic solution to the conflict.

PALESTINIAN REPRESENTATIVE
The International section heard three speakers; Prof. As'ad Abdul Rahman, a member of the Palestine Liberation Organisation (PLO), representing the President of the Palestinian Authority, President Abbas, Dr Ibrahim Ibrahim from the African National Congress, and Katalina Madariaga from the Basque Nationalist Left.
Each speaker outlined the current situation in their country and expressed their ongoing solidarity with the Irish struggle for independence and social justice.
The Lisbon Treaty was the subject of a key-note address by Cllr Pádraig Mac Lochlainn on Friday evening. The party's EU candidate in the West Constituency criticised the decision by the Irish Government to put the same treaty to a second vote and he called for "a new treaty for new times".
Saturday afternoon saw the Lisbon Treaty debate continue with contributions from Bairbre de Brún MEP, Aengus Ó Snodaigh TD, Cllr Toiresa Ferris and Kathleen Funchion. Ferris, the party's EU candidate in the South EU constituency, referring to the Government's "so-called" deal on Lisbon, made an impassioned plea "not just as an elective representative but as a young mother for people not to accept any deal 'from the same snake oil salesman who sold us Seán FitzPatrick's debts, particularly when we cannot even see the detail of these so-called guarantees".
The Ard Chomhairle motion on the Lisbon Treaty was carried unanimously.