19 February 2009 Edition
Fifth Column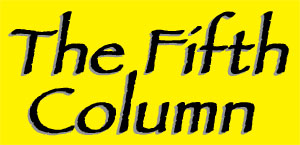 How would Jesus vote?
ONE of the dafter themes for Joe Duffy's nascent quasi-religious/morality RTÉ TV show, Spirit Level, is "How would Jesus vote?"
The man who used to sit at the right hand of RTÉ god Gay Byrne will parse the parables, sort the sermons and part the Red C polls to see who might get the Son of God's Number 1 in the 26 Counties. So, in the spirit of the holy Joe show, let's look for a sign.
First off, the Judean People's Front and the People's Front of Judea aren't standing. So how about the political wing of their cousins, the Socialist Workers' Party: People Before Prophet? (That's People Before Profit, you Philistine – Editor.) Maybe not.
Would Jesus vote for the Greens then? Jesus did wear sandals, looks like a hippy and was well-meaning but, on the other hand, he was effective, so maybe he wouldn't be Green (at least not a Green minister).
How about the Progresssive Democrats? Not likely. Michael McDowell and Mary Harney are more Pontius Pilate or Herod than our saviours. Besides, Jesus had 12 disciples – far more than the PDs.
Let's look at Labour. Michael D Higgins is a something of a sage and Tommy Broughan looks a bit biblical but would you trust Ruairí Quinn or Proinsias de Rossa to lead you to the Promised Land?
If not Labour, maybe Fine Gael? Are they the lesser of two evils? Nah, all that "Blessed are the meek: for they shall inherit the earth" doesn't sit with Ireland joining NATO. And Leo Varadkar and Brian Hayes are against giving anything at all – never mind "the earth" – to the meek and the poor (aka in Fine Gael as 'workshy spongers').
Fianna Fáil then? No way. Jesus threw the moneylenders out of the temple; he didn't open a tent for them at the Galilee Races.
No, the only party Jesus had something in common with, you will not be surprised to learn, is Sinn Féin. Vilified by the media of the time, battling against an evil empire, "blessed are the peacemakers"... Sinn Féin must be the Chosen People.
Go forth and multilply.
Green Party's death wish
MEXICO'S Green Party is talking tough and going against a worldwide Green principle – it wants the death penalty restored (but only for murderers and kidnappers, not bankers).
There are now more kidnappings in Mexico than there are in Iraq.
Posters bearing the Greens' toucan symbol have sprung up all over Mexico City with the slogan: "Because we care about your life – death penalty for murderers and kidnappers."
The Green Party down Mexico way has been accused of caring more about courting popularity. It might catch on here.
Green flies
THE Greens in Ireland have been caught having it both ways (talking like they're in opposition while they're propping up Fianna Fáil) in their criticism of high-flying ministers using the Government jet instead of cheaper and more environmentally-friendly commercial flights.
Within hours of Green leader and Environment Minister John Gormley lecturing all and sundry about how they shouldn't be using the Government jet as a souped-up taxi, it turns out that his chum, Green Party Communications & Energy Minister Eamon Ryan, and a civil servant used the Government jet to hop over from Baldonnell to Edinburgh on a return trip last September at a cost of around €4,000 to the taxpayer.
It's enough to make you air sick.
Naked camera
AS we head into the Sinn Féin Ard Fheis weekend, a timely warning to even the hunkiest of us Shinners who tend to sleep au natural.
A top opposition politician and human rights activist in Malaysia has resigned after photos of her sleeping naked were circulated to the public by mobile phone. Elizabeth Wong (37) has claimed that it's part of a plot by the Government to damage her People's Justice Party.
I think Ms Wong was wrong to resign. After all, even Sammy Wilson survived the photo exposure of naked romps in the woods with a girlfriend some years back. Sammy is hardly the best eye candy on the DUP frontbench and if he can stick it out in politics then so should Ms Wong.
An Phoblacht Magazine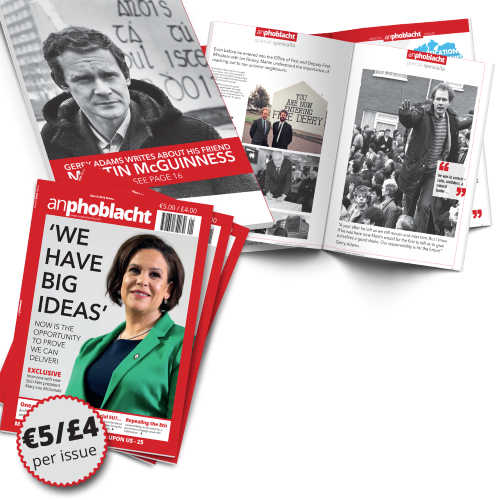 AN PHOBLACHT MAGAZINE:
The first edition of this new magazine will feature a 10 page special on the life and legacy of our leader Martin McGuinness to mark the first anniversary of his untimely passing.
It will include a personal reminiscence by Gerry Adams and contributions from the McGuinness family.
There will also be an exclusive interview with our new Uachtarán Mary Lou McDonald.
test