19 February 2009 Edition
More than a game BY MATT TREACY

Loving Kerry to bits
MORE shocking scenes from Omagh and not a Dub in sight! How do you explain that one, I wonder. Although perhaps it was because of the weekend that was in it, what with Valentine's Day and all the rest, that inspired the bould 'Ricey' (aka Ryan McMenamin) to initiate intimacies with Paul Galvin.
The Kerryman was playing hard to get so Tyrone's Ricey transferred his attentions to young Gooch, who seemed similarly unimpressed by his chat-up lines. Matters never really threatened to develop to the stage that they did when the Dirty Dubs were in town but that may only have been due to the rapid intervention of cool heads on both sides at the end.
Anyway, it is all good clean fun and no doubt Ricey was wishing Marc Ó Sé a pleasant journey home after the Kingdom's win and looking forward to their next meeting. And a next meeting there is almost certain to be, sometime in late autumn, as it is difficult to see much past either as the destination of the title in 2009.



GALWAY restated their credentials with a comprehensive destruction of a Dublin team that seems unable to score from play without the Brogan brothers (and one is insufficient) and has seemingly opted for a high-risk defensive system that appeared, on TV evidence at least, to be woefully inadequate to the task of policing the likes of Meehan and Joyce.
Watching the deferred showing of that dampened somewhat the euphoria of having earlier witnessed the hurlers overcome Galway by 12 points. They were quietly confident before the match and some of the younger players possibly felt that it was an opportunity to redress the hammering meted out to them by Galway in the 2007 under-21 All-Ireland final.
Five of Dublin's starting 15 played in that match, as did Joey Boland, who was on the bench. In contrast, Galway only had two on the field and another in the subs and, of course, were missing their main talisman: one Joe Canning who is on club duty with Portumna.
Dublin likewise were short a number of key players but some of those who are away at present may find it difficult to regain their positions as their replacements have been hurling out of their skins.
Regular goalkeeper Gary Maguire will face stiff competition from Alan Nolan who has not only demonstrated nerve and skill in face of opposing forwards but has one of the longest puck-outs of any current senior inter-county goalkeeper – a considerable asset when you have Liam Rushe doing a passable impression of Tony Doran on the edge of the square. And him only 18!
It was an excellent display but one that will not be turning any heads in the camp, I suspect. The most important consequence of it is pretty modest. Dublin have probably now guaranteed survival in Division One for a fourth year in succession, for the first time that I can recall (and I can recall only too long I am afraid!).
Anything after this will be a bonus but there are games where they will have a chance of picking up more points, just as there are games like those away to Tipperary and the Cats which will be good preparations for the greater intensity of the championship but where there will be little expectation of a victory.



MY confidence in the possibility of Dublin winning was increased by watching the Tipperary v Cork match in Thurles on Saturday evening.
Cork remained within four or five points until late on, which undermined somewhat the dim view taken by most commentators – and especially the ones who were not there! -–of the value of Dublin's nine point victory the previous weekend.
In fairness, Tipp were missing players like Eoin Kelly and Lar Corbett but it was only two late goals that made the scoreline look lop-sided. As against Dublin, it was the occasional defensive lapses that less-experienced teams make, and cannot afford to make, against the better sides that made the difference.
McCarthy spoke passionately about the Cork players afterwards and about the jersey being used in the dispute. It was an emotional speech and one made all the more poignant by the fact that McCarthy's mother died later that night. That led to the players announcing that their planned meeting for Sunday night with the club chairpersons would be postponed until this coming Sunday.
Perhaps it was Valentine's Day and all the rest that inspired the bould 'Ricey' to initiate intimacies 

Whether McCarthy's personal loss and the manner in which the players responded to that will serve to thaw the glacial impasse is another thing. On the face of it, and if their statement of a few weeks ago is taken at face value, then the striking players would appear to be facing an inevitable rejection by the clubs, in which case they have said they will end their dispute.
If that happens then there is the whole question of whether they will ask for a QUID PRO QUO from the County Board, perhaps in the form of another resignation, and what happens on the actual field after that. It is difficult to see the main protagonists ever again co-operating as part of a Cork panel. And there is also the issue of whether the current panel would simply be dropped.
Hopefully, however, they will become real problems after the weekend rather than the players' meeting with the clubs becoming merely another opportunity for both sides to set out their unchanging and seemingly intractable positions. There are only a matter of weeks left in order to resolve the situation before Cork are effectively out of both senior championships.

An Phoblacht Magazine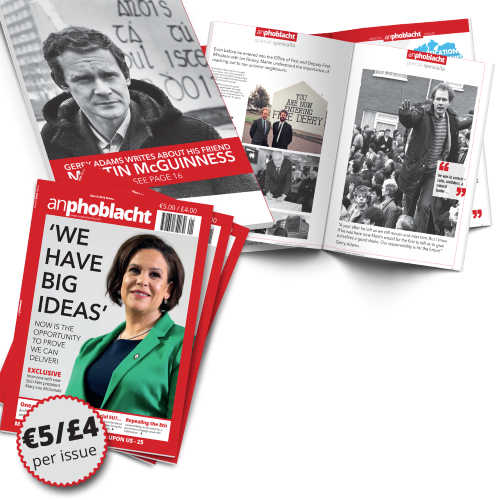 AN PHOBLACHT MAGAZINE:
The first edition of this new magazine will feature a 10 page special on the life and legacy of our leader Martin McGuinness to mark the first anniversary of his untimely passing.
It will include a personal reminiscence by Gerry Adams and contributions from the McGuinness family.
There will also be an exclusive interview with our new Uachtarán Mary Lou McDonald.
test