19 February 2009 Edition
NGA says thanks to US 'Hibs' in Belfast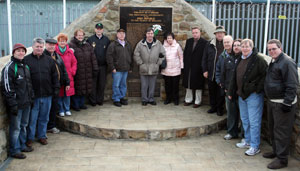 WEST BELFAST paid host last week to a delegation from the Ancient Order of Hibernians from the New York and New Jersey areas of the United States.
The 30-strong group of 'Hibs' was given a political tour of West Belfast last Thursday, 5 February, by tour guides from the ex-prisoners' group, Coiste na nIarchimí.
That evening the group was brought to the Irish Republican Felons' Club on the Falls Road where former O/C of the H-Blocks, and musician Bik McFarlane played a set to entertain the visitors.
In the Felons' Club, National Graves Association chairperson Liam Shannon presented the Hibernian delegation's head, Seán Pender, with a National Graves Association tie in recognition of the work that the AOH has done for the NGA over the years.
Liam Shannon said:
"This presentation is a token of our deep appreciation for the work done, and support given, by the Ancient Order of Hibernians in the New York and New Jersey areas to allow the National Graves Association to rebuild and renew the graves of our patriot dead and the commemoration plots that honour their sacrifice.
"The AOH's support is crucial and has been consistent for many years now and I want to thank Seán, on behalf of the NGA, for that support.''
Brendan 'Bik' McFarlane then made a presentation of a plaque to the AOH members present, on behalf of the Bobby Sands Trust and in recognition of the AOH members' assistance to the Green Cross and An Cumann Cabhrach groups.
PRESENTATION: Seán Pender of the New York/New Jersey AOH receives a Bobby Sands plaque from Bik McFarlane and Liam Shannon