19 February 2009 Edition
A landmark study of Irish republicanism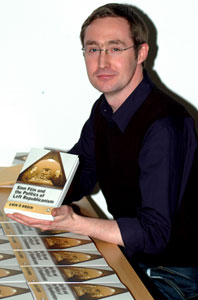 Book review
Sinn Féin and the Politics of Left Republicanism
By Eoin Ó Broin
Pluto Press
Price €20

By Mícheál
Mac Donncha



THIS is an important and unique book. It is important because it is a landmark in the study of Irish republicanism and the left in Ireland. It is unique because it is written by an activist who not only gives his own critical analysis of the past of left republicanism but also raises key questions for today and points to future directions based on his own experience of activism.
For too long this kind of critical analysis of the ideology, strategy and tactics of republicanism was left to anti-republican revisionist historians.
The debate about how to advance both the national and social struggles, whether in alliance or in opposition to conservative nationalists... has ranged back and forward over the decades 

As Eoin Ó Broin points out, these revisionists were rarely challenged in a detailed critical manner by left republicans. Many of their works were reviewed here in the pages of An Phoblacht, but for those who were capable of doing so, there was little time or resources, given the intensity of struggle, to provide the alternative detailed analysis from a republican viewpoint.
Such analysis was and is even more important for republicans ourselves, for the advancement of our project, than it is for answering our critics. That is the core reason that the author gives for writing this book.
For many political activists, not only those in Sinn Féin, the word 'ideology' can be a turn-off. We are too used to seeing people – especially in the smaller left parties – who are obsessed with ideology for its own sake and out of all proportion to their political influence or level of activism, if any. But ideology is essentially the study of political ideas and the author sets out why we need to pay attention to it:
"The importance of ideology for political parties is that, irrespective of whether they are conscious of it or not, it provides the intellectual resources from which organisational models, strategic imperatives and policy platforms emerge."

ORIGINS AND DEVELOPMENT

The book is divided into two parts.
In the first part the author covers the origins of left republicanism from the United Irishmen, through Young Ireland and the Fenians to the early Irish socialists.
His second chapter is entirely devoted to James Connolly and his third to what he calls 'left republican interventions' from the Tan War, through Republican Congress, Clann na Poblachta and 'Official Sinn Féin'.
The second part of the book deals with the development of Sinn Féin in its various phases from 1905 to the present, with special emphasis on the struggle since the 1960s, including the Peace Process and right up to last year's Lisbon Treaty. Finally, the author draws lessons from his analysis of the left republican past and sets out eight theses on the future of Sinn Féin.
The author agrees that Connolly was correct in his core contention that national independence and socialism are two sides of the one coin. He says Connolly was "the first to successfully articulate a left republican project that, while unsuccessful, at least offered a way of integrating the complex issues of class, gender and nation, in turn holding out the possibility of a truly radical democratic project for national and social transformation". But he also speaks of the 'Connolly paradox' and, for this reader at least, the nature of this paradox is not made very clear.

BRAIN OF RESISTANCE
The very appropriate illustration on the book's cover, 'The History Lesson' by Robert Ballagh, features Pearse and Connolly in a beautifully balanced composition. But I am afraid Pearse is neglected by the author. Pearse was influenced by Connolly and vice versa. Pearse described Connolly during Easter Week as "the guiding brain of our resistance". Pearse's pamphlet The Sovereign People clearly showed that he had been radicalised; it formed the basis for the Democratic Programme of the First Dáil Éireann and is an essential left republican document.
Connolly's influence and the potential of his leadership  – had he lived – is not given due weight. Nor is the author correct, in my opinion, in saying that Liam Mellows was "neither interested in nor capable of succeeding where Connolly failed". Too much weight is given to Mellows's notes from Mountjoy Jail as if they were a worked-out strategy. The author, I believe, exaggerates their influence on subsequent generations of republicans. Mellows was influential in turning many republicans towards socialism and Connolly because Mellows, as a victim of the Free State counter-revolution, wrote of how the rich supported that counter-revolution and called for a central role in the struggle for the working class. But I believe it is incorrect to say that Mellows had a strategy to raise social and economic objectives not for their own sake but as a means of winning workers to the side of the Republic.
The author brings it right up to date and pulls no punches in giving his assessment of Sinn Féin strategy today 

These arguments are not new and the debate about how to advance both the national and social struggles, whether in parallel or in stages, in alliance or in opposition to conservative nationalists, with or without armed struggle, has ranged back and forward over the decades. What is new and innovative about this book is that the author analyses how these ideas worked out in practice in the various left republican 'interventions'.

THE STICKIES
The section on the strange evolution from 'Official Sinn Féin' to Democratic Left and final disappearance into the Labour Party is especially interesting. "The Stickies sold out in 1969" was never an adequate explanation of what took place. For long after 1969, many of them still believed themselves to be embarked on a left republican project and their tiny remnants still do.
The second part of this book is the one which will be most avidly read. It is ground-breaking and very useful in providing a clear factual account, from a republican standpoint, of Sinn Féin's development from the 1970s to the present day. It is equally important in providing a critical analysis of that development.
The author brings it right up to date and pulls no punches in giving his assessment of Sinn Féin strategy today. This includes the issue of coalition in Leinster House, our role in the Executive at Stormont and our overall strategic and policy direction. He is challenging and thought-provoking, with his eight theses pointing to choices for the party and raising as many questions as they seek to answer.
An Phoblacht Magazine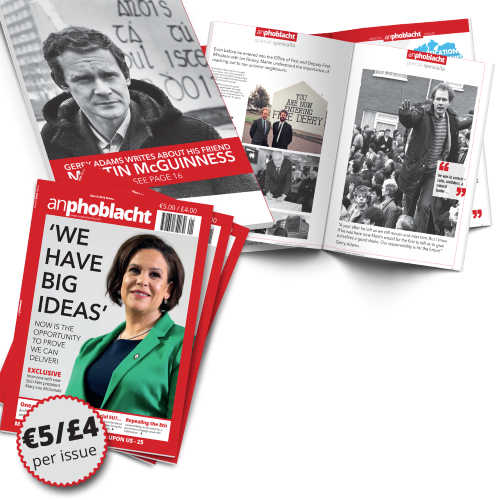 AN PHOBLACHT MAGAZINE:
The first edition of this new magazine will feature a 10 page special on the life and legacy of our leader Martin McGuinness to mark the first anniversary of his untimely passing.
It will include a personal reminiscence by Gerry Adams and contributions from the McGuinness family.
There will also be an exclusive interview with our new Uachtarán Mary Lou McDonald.
test