19 February 2009 Edition
'Decommission Short Strand barracks for social housing'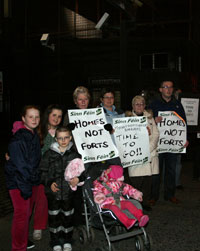 BY LOUISE McAREAVEY
SINN FÉIN in east Belfast has called for the immediate closure of a former RUC barracks – now used as a part-time PSNI base – to make way for new social housing.
Speaking to An Phoblacht, party spokesperson Niall Ó Donnghaile described the militarised Mountpottinger base in Short Strand, which is festooned with spy cameras, as "an eyesore that has invaded the lives of the people of Short Strand for too long".
He pointed out that a thousand people from the area have signed a petition supporting calls for the barracks to be closed, adding:
"The barracks only functions on a part-time basis and PSNI statistics show that this building is not only an eyesore but a financial drain. It takes around £180,000 annually to keep this facility in operation. That is £180,000 that could be put towards tackling crime in the East Belfast area."
And he says that the barracks serves no real purpose for the residents of the Short Strand.
"Only 16 members of the public used the barracks in the year between July 2007 and July 2008 to either produce their driver's licence or to enquire about lost property."
PROTEST
 At a public protest outside the Mountpottinger Barracks on Monday, Niall Ó Donnghaile described the barracks as "a symbol of collusion, intimidation and murder" and he explained why.
"Mountpottinger Barracks is a constant reminder to the people of Short Strand of the state violence that impacted on their lives in the course of four decades of conflict."
He highlighted the death of young Tony Dawson, who was shot dead in December 1983 by a drunken RUC man based in Mountpottinger Barracks. Tony and his friends were standing at the junction at Thompson Street and Mountpottinger Road when his killer shot him from his car.
Ó Donnghaile also pointed out that, in the early 1970s, notorious loyalist killer Albert 'Ginger' Baker met with his RUC Special Branch handlers in the Short Strand barracks and on one occasion Baker's handlers supplied him with guns.
It has also emerged that PSNI Chief Constable Hugh Orde accepts Mountpottinger Barracks must close as any PSNI patrols that serve the Short Strand area come from the nearby Strandtown Barracks anyway.