19 February 2009 Edition
Media View

'Omigod' at The Irish Times
THE 'Omigod! School of Journalism' – as practiced in mid-market newspapers and glossy magazines by 'lifestyle' writers – has finally stormed that bastion of good taste: The Irish Times.
For decades, the paper got away with the most accomplished marketing con-trick by persuading readers that not only was it a paper of record but that being an Irish Times reader is a mark of how civilised the reader is. Ostentatiously brandishing a copy of the title became almost obligatory in the Law Library, accountants' offices, boardrooms and those places where successful, educated types print their money.
However, there are alarming signs of a decline in standards at the paper with the Omigod School gaining ground in various columns and other parts of the publication.
One of the fluffier columnists now writing is Anne Marie Hourihane, who this week wrote about the apparently unnoticed phenomenon of "the bitterness between public sector workers and private sector workers".
Hourihane even quoted the plight of a taxi-driver who worked all the hours God sends to earn the same as a low-paid civil servant who put in half his hours. Expressing sadness at this division, Anne Marie wrung her hands till they bled and demanded that the Taoiseach do something about a split which was dividing families and even ruining the Sunday roast in many households.
The trouble with propaganda is that some of the junior officers and NCOs often buy into it with too much enthusiasm or gullibility, although Hourihane may have been a little more calculating in her pained expression of regret at this schism in the population. Whatever, the whole point of various editorials, news reports and opinion columns in The Irish Times over the last 12 months or so has been to engineer precisely the sort of distasteful division between working people that Anne Marie affects to find so distressing. 
Does she not read Stephen Collins, the political editor of her own newspaper? Collins has been demanding for months that the heads of public servants be displayed on spikes outside Dublin Castle for the encouragement of other workers (public and private).


THEN there is Anne Marie's colleague, Sarah Carey, who recently told Times readers that she wanted to see ICTU head David Begg have the coat torn off his back by a mob.
A dedicated Blueshirt believer, Sarah wants partnership abolished but her right-wing prejudice is only outweighed by her ignorance of what she has called the 'so-called left' and she betrays a staggering political illiteracy.
Sarah believes that Begg relies on industrial unrest and that he preaches revolution (when? where?). She also believes that civil service trade unions are worried only about their members who are general secretaries and county managers and not about hospital porters and the like.
That was this month. Last month, Sarah told outraged ranchers, investment managers, private hospital consultants and the like as well as outraged SUV-driving housewives everywhere that public sector workers are the British Army and that private sector workers are like their brutalised victims in Ballymurphy! Hey, that should get them going against the public service in Finglas and Tallaght, what? You have to admit that this type of journalism is entertaining.


STEPHEN COLLINS is less amusing but writes with equal disregard for the facts.
In a recent column demanding that the Government save future generations by sticking it to the public service, Collins stated that our "plight is now so dire" because Bertie Ahern sought popularity by cutting taxes and allowing public spending to rise faster than inflation.
Notice the absence of any mention by Collins of the banks. But leaving that aside, did Collins warn against this type of irresponsible behaviour when it was being carried out? Well, no, actually – in fact, quite the opposite. Just two years ago, Collins praised Labour and Pat Rabbitte for their "daring" tax-cutting proposals. Collins also argued that not only were Rabbitte's demand for tax cuts affordable but that their demand for more public service spending was also possible due to the budget surplus at the time. And he has long argued that the PDs should receive credit for cutting income tax.

An Phoblacht Magazine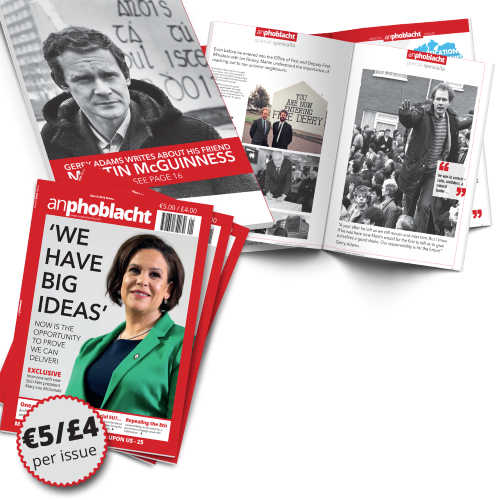 AN PHOBLACHT MAGAZINE:
The first edition of this new magazine will feature a 10 page special on the life and legacy of our leader Martin McGuinness to mark the first anniversary of his untimely passing.
It will include a personal reminiscence by Gerry Adams and contributions from the McGuinness family.
There will also be an exclusive interview with our new Uachtarán Mary Lou McDonald.
test