19 February 2009 Edition
The Mary Nelis Column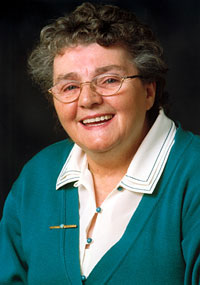 The naked ape
THERE were calls this week for his resignation but Environment Minister Sammy Wilson was having none of it. Who but a man close to the environment would romp naked with a female friend in the long grass of some field not yet destroyed by global warming?
While Australia burned, Sammy, oblivious to DUP party policy on climate change, banned a TV and radio ad aimed at encouraging people to act responsibly by switching off appliances to save energy. The ad is directed at informing people that energy savings can make a difference in terms of life and death for future generations but in the present economic climate may save people money.
Since Sammy banned it, the ad has been played non-stop by Queen's Radio and the BBC.
In opposition to some of the world's most eminent scientists and industrialists, the clown prince of the DUP has claimed that fossil fuels were not running out but that reserves were now higher than ever.
Wilson described the advertisement as an "insidious propaganda campaign". In the face of overwhelming evidence that greenhouse gas emissions have produced melting ice caps, rising ocean levels and a climate that seems to have gone crazy, Sammy believes that these are a result of natural rather than man-made catastrophes. Floods in these islands and tornadoes and cyclones in France and Spain, are part of a natural cycle is the opinion of a man who opposed the creation of an independent environmental protection agency and who welcomes the use of nuclear power.
Such arrogance (or is it ignorance?) says something about DUP leaders who appoint such a man to be Minister for the Environment. That this minister has to recourse to buffoonery and racism to hide his ineptitude in the job is becoming a source of embarrassment to Peter Robinson.
A teacher by profession, Sammy Wilson is, in effect, the worst advertisement for the elitism of the 11-Plus educational system that Caitríona Ruane has sought to change.
In his short time in office, he has called for jobs to be allocated to locals ahead of foreign nationals and banned officials from the South from sitting on committees that advise him. The latter move is seen as playing party politics with the environment in the whole of the island. His ignorance on cross-border matters such as the protection of birds has made him the laughing stock of environmentalists.
But it's not just the environment that has produced the PR disaster that is the Minister for the Environment.
During the St Andrew's talks, he launched a vitriolic attack on relatives who had travelled to Scotland to lobby politicians on behalf of families murdered during the conflict of the past 40 years. Not only did Wilson refuse to engage with them, he accused Paul McIllwaine, whose 18-year-old son was stabbed to death by UVF members, of associating with people "who support murder".
There is no doubt that Sammy has more on his mind than trying to avoid paying tax and the MOT on his many motorbikes. He has been rebuked by Joan Ruddock, the British Minister for Energy and Climate Change at Westminster, and there are indications that further censure awaits him from Europe. The naked ape comes to mind.

An Phoblacht Magazine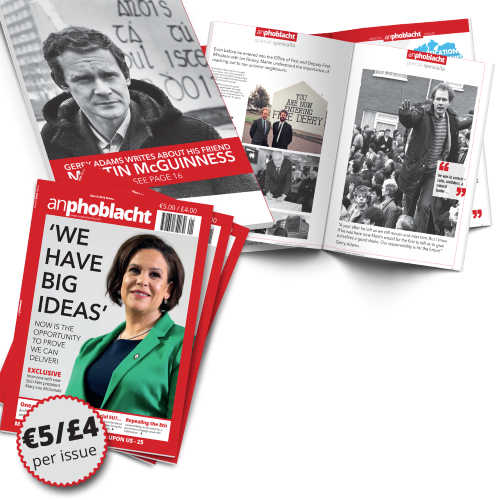 AN PHOBLACHT MAGAZINE:
The first edition of this new magazine will feature a 10 page special on the life and legacy of our leader Martin McGuinness to mark the first anniversary of his untimely passing.
It will include a personal reminiscence by Gerry Adams and contributions from the McGuinness family.
There will also be an exclusive interview with our new Uachtarán Mary Lou McDonald.
test