29 January 2009 Edition
Embarrassing DUP u-turn on Causeway Centre complete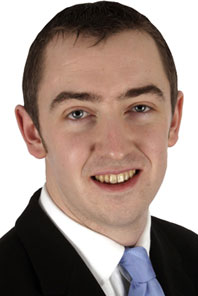 SINN FÉIN MLA for North Antrim, Daithí McKay, an ardent campaigner on the issue of a public visitor centre for the Giants Causeway has welcomed a decision by the North's Environment Minister, Sammy Wilson, to approve the National Trust application.
McKay said: "The decision is the right one and I am glad that the Environment Minister has given the go ahead for the National Trust proposal given that the DUP were lobbying hard for a private developer to take control of any centre. It represents the end of a bizarre series of events around 2 planning applications for a visitor centre which engulfed the DUP, the Environment Ministry, a local developer and the Paisley dynasty.
"I contacted the Minister earlier this month to press this issue further and I'm glad that this matter has now been resolved.
"For eight years now the Giants Causeway, which is one of Ireland's premier tourist attractions, has been without a visitors centre. The proposed National Trust plans are sensitive to the surrounding geology and land and it is welcome boost to both the World Heritage site and the local economy. This decision, I believe, vindicates the intense scrutiny that followed the original 'minded' decision by Arlene Foster to approve a private application. We now need to ensure that all remaining obstacles are dealt with and that a world class centre is in place within the next 2 years.
"I know of a lot of people in the North Antrim area who will be delighted with this decision."
Sinn Féin Vice chair of Moyle District Council, Councillor Cara McShane said:
"This is welcome news and finally sounds the death knell on the privatisation of the Giant's Causeway Visitors' Centre.
"The Causeway is part of the historical and natural history of Moyle and belongs to all the people of Ireland. It is vital that the work is now expatiated to provide a world-class Visitors' Centre at the site as soon as possible."