15 January 2009 Edition
Welcome for official recognition of 'An Gorta Mor'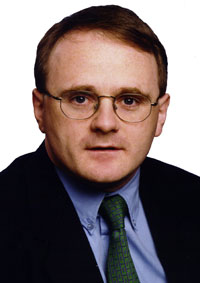 Sinn Fein MLA and chair of the Culture, Arts and Leisure Committee, Barry McElduff, has welcomed the move by the Irish government to officially recognise the Great Hunger that saw over 1.5 million Irish people die and similar numbers emigrate to avoid starvation.
Speaking on 9 January Mr McElduff said:
"The Great Hunger of 1845 and successive years is one of the defining periods of Irish history in which the local population was decimated through starvation and emigration.
"The fact that the Irish Government have now stated that they will establish an annual day to mark this tragedy is to be welcomed. This move should have occurred well before now in order to commemorate such a momentous loss to the people of Ireland.
"Given the fact that Minister O'Cuiv has stated that the annual commemoration will be rotated amongst the four provinces I hope that the Minister has considered that events should also take place within the Six Counties.
"To ignore this would be to ignore the suffering that was endured right across the island, well before partition, and affected all sections of our population, something that is not always recognised, especially in terms of Ulster.
"There are many noteworthy sites such as workhouses in Belfast and other major towns, graveyards, memorials and relief works that could be utilised for such events.
"I will be writing to the Culture, Arts and Leisure Minister, Gregory Campbell, in order to institute the same process of remembrance within the North and would appeal to him to make direct contact with Minister O'Cuiv and work closely with him to forward this significant initiative."