15 January 2009 Edition
Unions might agree pay pauses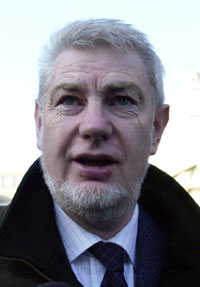 BY STEPHANIE LORD
PUBLIC SECTOR trade unions in the 26 Counties this week signalled they could agree to delayed pay increases due to workers during the economic crisis but will not accept pay cuts.
Irish Congress of Trade Unions General Secretary David Begg said pay cuts across the public sector would cause the economy to shrink further and "crippling deflation would ensue".
The ICTU chief called for the negotiation of a "solidarity pact" which would look at various issues including the 3.5 per cent pay increase due to public sector workers in September.
Major trade unions such as SIPTU and IMPACT have already said they will fight any pay cuts put forward by Finance Minister Brian Lenihan. It's thought he wants pay cuts of 5 per cent across the board for civil servants: an average pay cut of €2,500.
Trade unions fear public sector pay cuts will lead to further cuts in the private sector which will, in turn, reduce cash-flow to stimulate growth in the state. In addition, Social and Family Affairs Minister Mary Hanafin has suggested that there may be cuts made to lone parents' benefit and carers' support.
Sinn Féin spokesperson on Workers' Rights Arthur Morgan TD said that low-income and middle-income workers must be exempt from any pay cuts negotiated in the review of the recent pay deal. The Louth TD said that low-income earners are in need of further supports and cannot be expected to foot the bill for the Government's economic incompetence.
"In the current economic climate and the Government's insistence on cutting public services," he said, "it is further supports that are required for low-income and middle-income earners and pay cuts should not even be contemplated."