15 January 2009 Edition
Fifth Column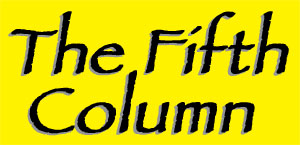 Fianna Fáil's late 1919 Dáil motion
NOT being ones to publicly  gloat (Yeah, right  – Editor), we here  at the Fifth Column Collective were just going to smugly but quietly bask in the reflected glory of Sinn Féin out-flanking Fianna Fáil – "The Republican Party" (sic). But a story in Tuesday's newspapers has changed all that.
Even one of the Irish Independent's top political scribes seems impressed by Sinn Féin's masterstroke. Senan Molony writes:–
"Sinn Féin dominated the first Dáil in 1919 and now it has done it again 90 years on – causing red faces for the Fianna Fáil-led coalition.
"Gerry Adams's party booked the Mansion House for the exact anniversary this month of the meeting of the first Dáil there on 21 January 1919. Sinn Féin candidates swept the boards in this part of the island in the 1918 general election.
"When it came to booking the anniversary, the Government moved too slowly. It is now stuck with holding an official commemoration next week, with a special sitting of the Dáil, on the day before the actual anniversary."
In fact, Fianna Fáil only woke up to organising an event in the past few months, in the autumn of last year. It was only in mid-December that it swallowed its pride and approached Sinn Féin about what to do about the do.
So wasn't Sinn Féin prepared to compromise and make it an inclusive event? It was; Fianna Fáil wasn't.
"Sinn Féin was asked to swap dates to avoid embarrassment for the 30th Dáil," Senan says. "But Sinn Féin was only willing to offer an all-Ireland commemoration, which would have been historically accurate for the all-island 1918 general election. It would have meant the North's Deputy First Minister, Martin McGuinness, co-hosting the event with Taoiseach Brian Cowen. The Government rejected that idea."
This is "Fianna Fáil – The Republican Party", remember. Fianna Fáil – which is belatedly establishing an organisation in the Six Counties – didn't want any Nordies involved. So much for Fianna Fáil's Republic!
And now Brian Cowen and Dermot Ahern, annoyed with themselves over the political muddle they've got themselves into, have booked the Mansion House for the centenary celebrations – even though Sinn Féin was previously told that its attempt to book the 100th anniversary was too far in advance.
Never mind. The idea of an all-Ireland approach may have caught on with leaders of Fianna Fáil – "The Republican Party" by 2018.


General outflanks minister
WILLIE O'DEA'S army chief is digging in and is grimly refusing to surrender any of the valuable assets he has secured in one of the fiercest battles of his military career. He's holding out against a pay cut.
Defence Minister O'Dea answered Finance Minister Brian Lenihan's clarion call for public servants to do their "patriotic duty" in saving money and 'volunteered' to give back a tenth of his salary. But Lieutenant General Dermot Earley doesn't seem to have rallied to the flag so quickly and this week was still basically saying, 'What I have, I hold.'
And the Earley delaying tactic means that he is now earning €8k a year more than his boss, with Willie taking nearly €203k while the man he gives the orders to takes home a basic pay of more than €211k.
Will Willie order a withdrawal?


Guilty silence
OVER at Garda HQ, they should call those crime-fighting maths masters from the TV series Numbers because police chief Fachtna Murphy trousers an arresting €30k more a year than his boss, Justice Minister Dermot Ahern.
And the Garda Commissioner isn't talking about the case (with his €232.5k a year in it).
If he was in front of a judge, all sorts of people would be drawing inferences from him exercising his right to silence.


Celebrity Big Brother is watching you
BIG BROTHER is watching you and he cut off Scottish socialist campaigner Tommy Sheridan when the Solidarity party leader and former Socialist Party MSP started singing The Fields of Athenry in Celebrity Big Brother last week.
Tommy was trying to get rapper Coolio (of Gangsta's Paradise fame) to do a turn but the cool dude was uncharacteristically shy so Terry Christian (ex-presenter of Channel 4's controversial 1990s music magazine show, The Tube) egged him on and urged the Scottish socialist to sing. And so he sang The Fields of Athenry. Christian joined in but viewers only heard the first few bars before the sound of silence engulfed the CBB broadcast.
That didn't stop complaints about the fun-loving duet.
Glasgow University chaplain Reverend Stuart MacQuarrie droned that The Fields of Athenry is "anti-British" and thereby "racist" due to the song's reference about the folk song's central character "rebelling against the Crown".
The reverend ranted:
"This is an Irish rebel song and so should not be sung on television... or indeed anywhere!"
Tommy Sheridan, he said, should have known better.
Sheridan does. He explained to those who don't know what The Fields of Athenry are about:
"It's basically a song about freedom, the potato famine and how people in Ireland fight against the famine."
Rock on, Tommy.

An Phoblacht Magazine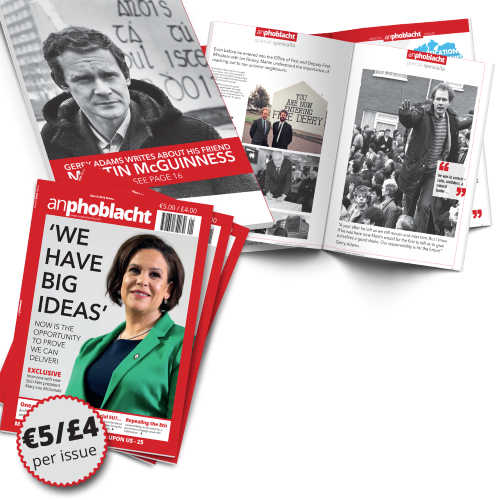 AN PHOBLACHT MAGAZINE:
The first edition of this new magazine will feature a 10 page special on the life and legacy of our leader Martin McGuinness to mark the first anniversary of his untimely passing.
It will include a personal reminiscence by Gerry Adams and contributions from the McGuinness family.
There will also be an exclusive interview with our new Uachtarán Mary Lou McDonald.
test