15 January 2009 Edition
Media View

Language of war
NOT many people spend Christmas Eve reading the papers. There's last-minute shopping to get and turkey cooking instructions to dust off and decipher but Sarah Carey's ham-fisted assault on Gaelscoileanna in her new home in The Irish Times, was worth setting aside the sherry for.
Carey was leaping to the defence of fellow Irish Times writer Kathryn Homlquist, who had bashed Gaelscoileanna earlier in December as being reserved for the middle class, writing:
"Those who speak Irish well are not the underprivileged, they are the privileged. For whatever reason, they go to Irish-speaking schools."
For 'whatever reason'? Those crazy kids, learning Irish.
Carey, a blogger with delusions of journalistic ability, began poorly. "Gaelscoil leaders corrected statistics she quoted..." In other words, Holmquist's article was indeed based on imaginary factoids torn to pieces by the Times's own letter writers yet I will continue to dig this hole.
Does Ms Carey name or identify any Gaelscoileanna in her piece? Well, only Gaelscoil Bharra in Dublin's Cabra, that notorious bastion of middle-class privilege. Why I remember a very embarrassing evening in a hostelry in that Dublin suburb where I passed the port the wrong way round the gathering, earning a raised eyebrow from Nicky Kehoe and a glare from the Contessa.
As Muireann Ní Mhóráin of An Chomhairle um Oideachas Gaeltachta agus Gaelscolaíochta  points out in a reply published in the Times:
"Post-primary Gaelscoileanna in the Dublin area are based in Cabra, Clondalkin, Donaghmede, Glasnevin, Lucan and Tallaght, as well as Booterstown." Killiney it is not.
What's fascinating about Carey's article, and that of Holmquist, is their failure to even address the role of Irish as an integral part of our culture and history, something to be proud of. Far from something to be attacked, the growth of the Gaelscoileanna movement, often driven by working-class communities, is something deserving of immense credit.
Instead, feigned concern for working-class people, that we might be deprived the enriching experience of having one of Sarah Carey's children in our classrooms (yes, she's actually concerned about that), hides a simple and basic dislike of the language.
Or, as Pádraig De Búrca, also writing to the Times put it:
"Parents can see that children who attend Gaeilscoileanna often emerge with a self-confidence and an esprit de corps, having grown up with a love and appreciation of Irish culture rather than living in some vague mid-Atlantic milieu where some blog-journalists appear to reside."
Maith thú, chara.






AND then there's Gaza.
You have to hand it to Israel. Oh, I'm not talking about destroying ambulances, shelling schools, bombing mosques, using Palestinians as human shields and cutting off medical supplies. There's nothing new in that. It's Israel; it's what they do.
What's impressive though is how they learn, as The Observer reported on the first Sunday in January. Israel believed it lost the propaganda war during the 2006 invasion. The solution? Not to stop invading places... but to do it better. And so:
"A new information directorate was established to influence the media, with some success. And when the attack began just over a week ago, a tide of diplomats, lobby groups, bloggers and other supporters of Israel were unleashed to hammer home a handful of carefully-crafted core messages intended to ensure that Israel was seen as the victim, even as its bombardment killed more than 430 Palestinians over the past week, at least a third of them civilians or policemen."
Richard Silverstein of The Guardian points out that pro-Israel journalist-historian Michael Oren has published several stories since the Gaza incursion began in US media outlets like New Republic and the Los Angeles Times.
Fair enough, you might think. He's as entitled to defend setting children alight with banned white phosphorous weapons as the next chap. But Michael is also a reservist with the Israeli Defence Force; currently on active service, in Gaza, where he is responsible for dealing with the foreign media. Yet he is described as a simple historian in the newspapers and this wee nugget of information is omitted.
As British Prime Minister Ted Heath observed before the Widgery whitewash of his paratroopers' massacre of Civil Rights marchers in Derry on Bloody Sunday, it's a propaganda war, not just a military one. And if Israel is getting a draw, it's winning.

An Phoblacht Magazine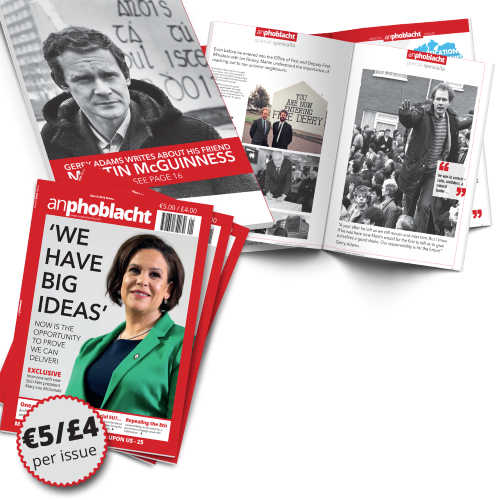 AN PHOBLACHT MAGAZINE:
The first edition of this new magazine will feature a 10 page special on the life and legacy of our leader Martin McGuinness to mark the first anniversary of his untimely passing.
It will include a personal reminiscence by Gerry Adams and contributions from the McGuinness family.
There will also be an exclusive interview with our new Uachtarán Mary Lou McDonald.
test