15 January 2009 Edition
The Mitchel McLaughlin Column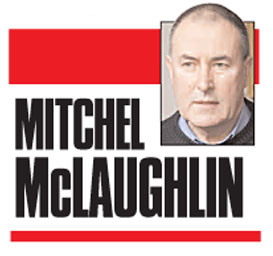 Public procurement could be key to economic recovery
PUBLIC procurement contracts on the island of Ireland are an £11bn to £15bn market. This very significant level of public expenditure represents an important opportunity to enable and empower local enterprise, particularly in the current difficult financial circumstances. Unfortunately, public procurement can effectively be a closed shop to many suppliers who find many bureaucratic obstacles to doing business with Government departments.
It is time that Government woke up to the inherent benefits to skewing public procurement to support and develop local enterprise on the island.  It is equally imperative that the current orthodoxy within senior public sector officials that such an approach is contrary to EU labour and competition laws. In fact, it is not.
Contractual requirements are an entirely legitimate method of delivering social inclusion outcomes, particularly in providing training opportunities, challenging economic deprivation and nurturing local enterprise.
Because of the scale of so many public authority contracts, and to encourage indigenous SMEs to tender, it may be necessary for agencies such as InterTradeIreland to develop a strategy designed to encourage local suppliers and contractors to form co-operatives or joint ventures that would enable them to compete with multinational conglomerates.
Other ways in which Government departments and agencies could assist local companies in acquiring these lucrative contracts would be to make them available in smaller, more manageable tranches.
A prerequisite to achieving full potential for indigenous SMEs would be the removal of barriers to the operation of an open all-Ireland procurement process. The importance of this multi-billion market should not be underestimated; neither should the potential for ancillary services in supply, design and product development.
I would urge the respective ministers in Dublin and Belfast to establish a task force to identify what measures would be required to use public procurement as a component of the strategy to inject stimulus into island-wide economic recovery.
In conjunction with proposed infrastructural development, I believe that by devising structures that will favour indigenous companies in delivering public procurement projects that could provide alternative employment for many of those workers unfortunate enough to have lost their jobs because of the present economic crisis.
As with every other endeavour, there will be those bureaucrats who will insist that it is contrary to this or that regulation. But I believe that governments have a responsibility to get people back to work and therefore should instruct departmental advisers to define ways in which jobs in this area can be delivered, not reasons why they can't.
It would be more productive if, instead of ministers wasting energy seeking to save expenditure by slashing services, they directed their efforts into devising means that will put people back into employment and generate much-needed tax revenue. The public procurement area is an obvious example.

An Phoblacht Magazine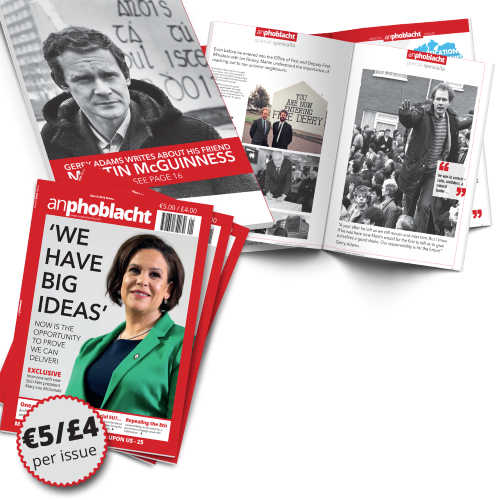 AN PHOBLACHT MAGAZINE:
The first edition of this new magazine will feature a 10 page special on the life and legacy of our leader Martin McGuinness to mark the first anniversary of his untimely passing.
It will include a personal reminiscence by Gerry Adams and contributions from the McGuinness family.
There will also be an exclusive interview with our new Uachtarán Mary Lou McDonald.
test