8 January 2009 Edition
'There will never be another Tony Gregory'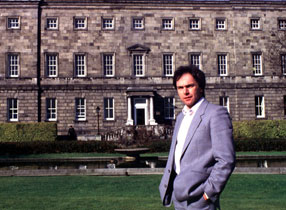 Tony Gregory TD, 1947-2009
TONY GREGORY, the Independent TD for Dublin Central, died on 2 January at the age of 61 after a year-long battle with stomach cancer. He had been a community and political activist for 45 years and a TD for 26 of those years.
A secondary-school history teacher from the North Strand area of the capital and at one time a member of what was dubbed by the media as 'Official Sinn Féin', he later helped to establish the breakaway Irish Republican Socialist Party with Seamus Costello and Bernadette McAliskey before leaving both. He was elected as an Independent city councillor in 1979.
He won a Dáil seat in February 1982 and secured the famous multi-million-pound 'Gregory Deal' in return for his support for the minority Fianna Fáil government of Charlie Haughey. The deal secured a pledge from Haughey for jobs, housing, schools and resources for the north inner city constituency that had been blighted by social and economic decline exacerbated by the collapse of Dublin Docks and the rise of drugs. Other disadvantaged areas of the city were also included by Gregory's 'Kitchen Cabinet' in their regeneration demands which, unlike today's deals with Independents, were negotiated in public, with total transparency and witnessed by ITGWU trade union leader Michael Mullen.
In the event, Haughey's government survived just a matter of months. When Garret FitzGerald's Fine Gael was returned to power, in November 1982, most of the 'Gregory Deal' disappeared although Dublin's north inner city had been firmly put on the political map.
One of the most remarked-upon aspects of the inner city schoolteacher and community activist entering Leinster House was his flouting of convention by refusing to wear a tie in the Dáil chamber. He didn't normally wear a tie and said most of his constituents couldn't afford one", he said.
He opposed the Section 31 state broadcasting censorship of republicans in the 1980s and was a constant campaigner against miscarriages of justice such as the jailings of Nicky Kelly, the Guildford Four/Maguire Seven and the Birmingham Six.
Since 1982, Tony Gregory was re-elected at each subsequent general election and his illness did not prevent him from actively campaigning against the Lisbon Treaty in the past year or carrying out as much as he could of his unrelenting Dáil and constituency work.
TRUE COMMUNITY ACTIVIST
Tony Gregory was described by Sinn Féin President Gerry Adams as "a socialist, a republican and a true community activist".
Gerry Adams noted that it was Gregory's "skilful defence" of his constituents that ensured his grassroots popularity and continued electoral success.
"But for Tony it wasn't just about being popular. He was a man of principle and integrity. He was a genuine champion of justice and equality issues, not just in his own constituency but across Ireland and beyond."
Sinn Féin Dáil leader Caoimhghín Ó Caoláin, who worked with Tony Gregory in putting together the Technical Group of Independents and Sinn Féin TDs to challenge the big battalions of Fianna Fáil and Fine Gael, said:
"Tony Gregory was committed to social and economic justice and took his stand with the marginalised and the oppressed in Ireland and worldwide. He was a believer in Irish unity and national sovereignty and gave his support to many progressive campaigns over the years.
"His voting and speaking record in the Dáil was consistently progressive and his passing is a significant loss to Irish politics."
THE PEOPLE'S LOSS
Close friend and constituency colleague Sinn Féin Councillor Christy Burke went to jail with Gregory in 1986 when they stood up for the rights of Moore Street's 'Molly Malone' street traders and they were almost inseparable in numerous other campaigns, from the Concerned Parents Against Drugs movement in the early 1980s to the ongoing social housing crisis in 2008. Christy, who knew Tony Gregory better than any other republican activist, said of the passing of his fellow fighter for the north inner city:
"It's the people's loss. There will never be another Tony Gregory."
Born on 5 December 1947, Tony Gregory died at St Francis's Hospice, Raheny, on 2 January 2009. He is survived by his brother Noel and partner Annette.
• ANTI-DRUGS RALLY: Tony Gregory and Christy Burke protest in 1996