8 January 2009 Edition
The Fifth Column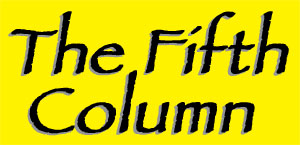 Bev beats the banker
BRIAN COWEN is going to "speak" to Beverley Cooper Flynn about the weekend newspaper exposé about her defiantly holding on to her €41k Independent TD's tax-free allowance for the next three years even though she's been back in Fianna Fáil for the past year. Bev is banking this bonus on top of her salary of €106k a year.
While 'ordinary' taxpayers' wages are being lashed with a 1 per cent levy, Bev is laughing all the way to the bank.
Hang on. Surely this wasn't the same Beverley Flynn who last month urged the banks in a Dáil speech to "learn to function in the interests of the business community and the economy in general", was it?
How about you operating "in the interests of the economy in general now", Bev.


RIR's UVF backing band
A LOYALIST marching band named after the UVF, started as a blood and thunder band in August 1969, is behind a CD raising cash for the official Royal Irish Regiment Benevolent Fund.
The UVF Regimental Band is one of more than a dozen bands which launched the CD in Stormont just before Christmas.
Despite its origins in the summer of '69, the UVF Regimental Band declares on the opening page of its website: "This site is no way connected to any political or paramilitary organisation/party."
But the fact that the UVF Regimental Band was established only in August 1969, as the Civil Rights campaign was beginning, and not in the years between 1912 and then, might give a hint as to its real raison d'etre.


The Joe Stalin Fan Club
JOSEPH STALIN, that most vilified world leader, has been voted Russia's third most popular historical figure in a nationwide TV poll that attracted 50 million votes.
Pipping Stalin to the top spot was Prince Alexander Nevsky, who (like Stalin) defeated German invaders but back in the 13th century. Second was Pyotr Stolypin, Tsar Nicholas II's prime minister from 1906 to 1911. Stolypin planned to stem growing left-wing movements by implementing land reforms until he was assassinated by an agent of the Tsar's secret police.
But it's the old Soviet strongman Stalin's popularity today that has startled conservative commentators. They blame fans of 'Uncle Joe' for ignoring the gulags and purges of enemies while hailing his achievements in turning Russia from a peasant feudal monarchy into a world super-power, achieving total literacy and social reforms, and repelling Hitler's Nazi legions.
A Communist Party leader, Viktor Ilyukhin, acknowledged:
"Of course, there were also dark pages and, coming along with his genius, there were also destructive moments, but in general he is remembered mostly as a great leader."
It was Stalin who is supposed to have said:
"The people who cast the votes don't decide an election – the people who count the votes do."
Gay Mitchell and the Lisbon lobby must love Stalin too.


Topless cover-up
A CONSERVATIVE politician has his eye on female topless sunbathers on Australia's beaches.
Christian Democratic Party leader and member of the New South Wales Legislative Council Reverend Frederick Niles wants to cover up the scandal of boobies on the beaches by banning women going topless. Now Reverend Fred is trying to whip up support amongst like-minded politicos but they're facing stiff resistance from the nation's naturists.
Thankfully, it's not a problem likely to test politicians here in a windy January in Tramore.


Slumber party
SIX Chinese Communist Party local government officials in Hunan province have been sacked for dozing off during dreary speeches celebrating 30 years of economic reforms.
Pictures of the dozy half-dozen were posted on the internet and led to their sacking but also created a backlash by comradely bloggers who blamed "99 per cent of meetings where the words are empty and stereotypical".
A bit like an election broadcast by Beverley Cooper Flynn and Fianna Fáil.
An Phoblacht Magazine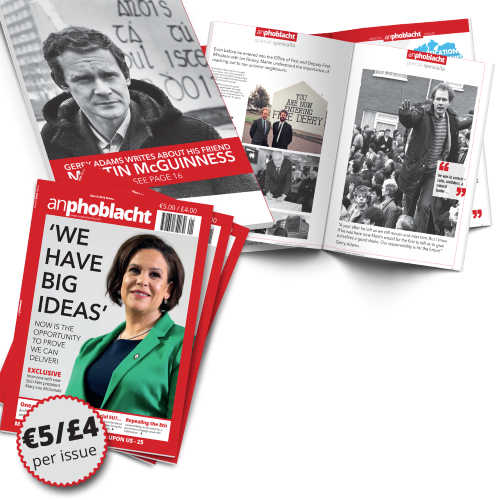 AN PHOBLACHT MAGAZINE:
The first edition of this new magazine will feature a 10 page special on the life and legacy of our leader Martin McGuinness to mark the first anniversary of his untimely passing.
It will include a personal reminiscence by Gerry Adams and contributions from the McGuinness family.
There will also be an exclusive interview with our new Uachtarán Mary Lou McDonald.
test