18 December 2008 Edition
Interview : Former republican POW John Thomas speaks to Gearóid Mac Aodh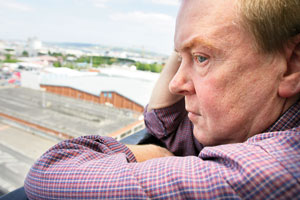 Sailortown republican believes united Ireland closer than ever
JOHN THOMAS has taken part in some extraordinary events. He spent over 16 years in prison, five of them on the Blanket, for his involvement in the IRA but says he wouldn't change a thing – except maybe getting caught!
As a result of his involvement in the republican struggle, Sailortown man 'JT' has spent nearly a third of his adult life in jail.
Even after nearly three hours listening to JT recall his experiences throughout these years, you come away knowing that you have only skirted around the edges of a lifetime of struggle.
Jailed for the first time in 1969 after an 'altercation' with an RUC man, those four months in 'The Crum' were just a starter for what he would face in later years.
Interned in the Cages of Long Kesh, JT had a year of freedom before he was back in jail when he was sentenced to ten years for possession of explosives.
There was 50 per cent remission at the time but JT would not leave the H-Blocks of Long Kesh until nearly eight years later because of his involvement in the Blanket and other protests.
JT spent nearly five years on the protests until they came to an end with the start of the 1981 Hunger Strike. He knew personally several of the Hunger Strikers who later died.
The day of JT's release from the Blocks came when all the world's media were focussed on the block he was to leave from – H7.
The day before his release, 38 republican prisoners had, after the IRA took control of the Block, executed an early-release scheme. The next day, JT was arrested by the RUC as he stepped outside the gate and spent three days in Castlereagh being interrogated about the mass exodus.
JT's spell on the outside was to last a bit longer this time round. However, he was eventually captured with the late Martin Meehan and charged with abducting a British soldier. He was sentenced to 12 years.
Released in 1992, John Thomas is now the type of oul fella you wouldn't give a second glance to as you walk past him in the street or rubbed shoulders with him in the bookies (he's fond of a flutter).
Yet the diminutive-looking man has been involved in and experienced extraordinary events in his lifetime.
An inner strength has obviously seen him through these turbulent years and he is still spritely for his 60 years. JT keeps a keen eye on the political goings-on of today and yet he was one of those many thousands who were making the news yesterday.
The former POW was actually born in Birmingham but his family moved back to Belfast when he was two and he grew up in the Sailortown area.
JT was one of a family of five children born to Joe and May Thomas (nee McGranaghan). 
His mother had a strong nationalist streak and indeed supported her son throughout his involvement in the struggle.
JT had no early political inclinations and after leaving school started work as a commis chef in the Midland Hotel on York Street.
JT insists a couple of times during our yarn that hate of the British state or loyalists would never have been enough to keep you going throughout the struggle.
While his early involvement came as a result of what he seen and experienced while living in north Belfast, his political awareness and grasp of what it was all about came as the years went by.
JT believes sectarianism in the North, from the then Stormont regime through to the media, pervaded every aspect of society and this poison is one thing which drove him to strive to bring about change and an independent Ireland.
"If you could remove sectarianism from this place then we'd walk straight into a united Ireland tomorrow," says the veteran republican.
"The USA electing a black man and leaving racism behind shows you that the world has moved on, although I still think a lot of unionists are tied into the old ways of not wanting to have a Catholic about the place," says JT.
JT also paid a heavy price in his personal life for his involvement in the struggle and his one regret is that his two children had to spend a lot of their early years without their father. 
During JT's first time in Crumlin Road Jail he met current Belfast Mayor and Sinn Féin Councillor Tom Hartley, who had received a sentence for riotous behaviour.
Back out on the streets, JT looked at what was happening to his community and joined the IRA.
After the introduction of internment in August 1971, JT lived a life of avoiding capture and being involved in IRA operations on a daily basis.
He was to stay active until November 1972 when he was captured in the New Lodge and brought to Palace Barracks, Holywood.
 "During those years you just weighed into houses each day and waited on women to bring weapons," JT recalls. "We were always on stand by.
"I was brought to Holywood Barracks and the Branch beat the crap out of me and put guns to my head and pulled the triggers."
JT ended up in Cage 3 and it was here that he had his introduction to politics.
"As time went on in the Cages, I started reading a lot and became aware of the wider politics of the struggle. I went to Irish language classes and eventually became O/C of the Cage.
"You looked at causes of the conflict – unemployment, sectarianism, etc – and the wider goal of a united Ireland.
"Plus you were reading your own history and finding out that you weren't the first generation to go through this. The more you got to know the more you wanted to know."
Released in March/April 1975 as internment was coming to an end, JT went back to active service on a 24-hours-a-day basis. He would have only 12 months of freedom before ending back in jail.
JT was captured in March 1976, three weeks after the ending of political status, and charged with possession of mortars. He was sentenced to ten years
Back in 'The Crum' again, JT would begin what would be over seven years of protest and struggle against the prison regime.
With the ending of political status, republican prisoners in 'The Crum' found themselves put in cells along with loyalists.
JT became O/C of the IRA remand prisoners and a battle a day started with the jail authorities.
"After getting separate cells from loyalists I remember when they were trying to mix us during association time in the yard and I had told the Screws that republicans would be attacking loyalists if they let us out together," says JT.
"Well didn't they let out Jim Gibney, who wasn't the most physical of types, along with this big loyalist at the same time. The loyalist just came towards Jim and Jim stuck out his fist and knocked your man out. I couldn't believe it."
JT recalls that the first Blanket man, Kieran Nugent, had asked him what was the craic when they are sentenced and the Screws attempt to give them a prison uniform and JT told him to refuse to wear it.
"I couldn't have picked a better man to begin the Blanket. Kieran was perfect – I knew he wouldn't bend."
After being sentenced, JT went to the blocks and immediately on to the protest.
When the protests failed to shift the British Government, the prisoners took up the last resort and the hunger strikes began. JT knew several of the hunger strikers who died.

 "Bobby [Sands] was the most mellow nice guy you could ever meet. He was never angry. He was always on the same level you know – he didn't have big highs and lows. I remember he was always into writing. He was a good singer too."
JT shared the wing with some other hunger strikers, like Joe McDonnell and Raymond McCreesh.
"They came and they weighed them, and told them their weight, and we would've shouted that information to the other wings.
"After 28 days the men would have been moved to the hospital wing beside the H-Blocks, and that was the contact ended.
"I remember I spoke to Raymond McCreesh before he was moved. Ray was a real genuine person. He was very strong-minded.
"I remember speaking to him one day, not long before he was moved, and he was talking to me. He was sort of shouting but it wasn't coming out, and you were leaning close to him to try and hear him, but he thought he was shouting, and you could barely hear it – it was a drawl, barely a whisper.
"When I saw Joe he was not in the same condition. Joe says, 'JT, I've snout [tobacco] there for you, I've left it there for you where you slop out'... I says, 'Well, I dunno if I'll see you again,' and he says to me, half-laughing, 'Well, I hope you do,' but Joe was a bit of a joker, that was the type of him.
"Tony 'Scatter' O'Hara, he was in the wing with us. He was Patsy O'Hara's brother and he would've got visits up to the hospital, and he would have told us what news was happening."
With the ending of the protests after the deaths of the hunger strikers, the POWs were eventually granted political status in all but name.
Then one huge action the IRA prisoners took in 1983 would throw the spotlight of the world back on the H-Blocks. 
On Sunday, 25 September, 38 republican POWs exited the jail after the IRA had taken over H7.
JT was on the block but didn't go on the escape for an obvious reason: he was due to be released the next day.
"I remember the Peelers opening the cell door and shouting, 'This one is sleeping!' – I was in bed. The RUC were everywhere along with the Screws and dogs.
"They tried to make me run through a gauntlet of Screws with batons and dogs but I refused to run. Cardinal Tomás Ó Fiaich gave me a bible and they stole that when they were wrecking the cells."
JT was released the next day but immediately arrested by the RUC and interrogated at Castlereagh for three days before being eventually released for good.
"If I had been on the escape and got caught I still would have been delighted because so many had got away and we had struck such a blow against the system."
JT lived on the Ormeau Road for a while when he got out but it just wasn't home and he soon moved back to the New Lodge.
Back involved in the republican struggle, JT was now active throughout the city and not just in north Belfast.
This time, JT's spell outside the confines of a prison cell was to last nearly three years before he would find himself on the way back to a very different type of system in the H-Blocks.
JT was lifted with Martin Meehan and Short Strand republican Kevin McGuigan in 1986. His daughter was just three months old at the time and he was eventually sentenced to 12 years on a charge of abducting a British soldier.
"When I went back to the Blocks it was completely different: you were in control. We more or less had the run of the place."
Released in 1992, JT says that he gets frustrated at times watching things unfold at Stormont but he is confident that a united Ireland is closer than ever.
"There is a new arch-bigot in Jim Allister [the Traditional Unionist Voice MEP].
"The leadership of unionism have never given Protestants any direction but hopefully that will change too as a lot of things have changed recently.
"It was easier during the war, it was straightforward  – there was them and us.
"Don't get me wrong, you were frightened doing things but your commitment overcame that fear.
"Republicans had to go through that journey to reach where we are now. You would not be able to make the decisions you make now unless that journey had been travelled.
"I think it is a lot harder now and what the Sinn Féin MLAs are doing up at Stormont takes great commitment, I couldn't do it." 
On spending such a lengthy period of his life in jail, I ask JT has he any regrets.
"I wouldn't change a thing  – except maybe not get caught. It was a war and people dying is regrettable. It's good that is at an end now and I believe our people have the confidence and the know-how to achieve a united Ireland through peaceful ways.
"The Brits and indeed unionism gave us no other choice but to use armed struggle. I think the conditions are now right for republicans to use a different tactic to get Irish freedom."
COMRADES: JT shared the wing with Joe McDonnell and Raymond McCreesh