18 December 2008 Edition
Remembering the Past: The last of the Invincibles


By Mícheál
Mac Donncha
 
THE Irish National Invincibles were an off-shoot of the Irish Republican Brotherhood and were active in Dublin in the early 1880s. They were a conspiratorial group that sought to destabilise British rule in Ireland by assassinating leading figures in the Dublin Castle regime.
The Land League had been founded in 1879 and the subsequent Land War was a bitter struggle of tenant farmers against landlords in which the landlords were backed by all the forces of the British crown, including the Castle government and the Royal Irish Constabulary. There were thousands of evictions and mass emigration from Ireland. Supporters of the Land League engaged in many forms of resistance, including destroying landlord property and, in some cases, attacking landlords themselves.
British government repression reached a new level in January 1881 when the Chief Secretary for Ireland William Forster introduced a Coercion Bill to crush the Land League. In 1881 over 17,000 families were evicted from their homes.
In October 1881 Charles Stuart Parnell and other Land League leaders were arrested and jailed. Sometime that same month the Irish National Invincibles were formed. Forster had become the object of intense hostility in Ireland and the Invincibles made several unsuccessful attempts to assassinate him. He had to travel with an escort of armed, mounted police. One of those who supplied intelligence to the Invincibles was the cab driver James 'Skin the Goat' Fitzharris who had access to Dublin Castle. Another Invincible, James Carey, explained at his trial why he joined:
"When I became a member of the Invincibles, it was with the object of serving my country. Ireland was in a very bad state. We were just after a famine and there was a lot of coercion at the time. The popular leaders were in prison and the rights of free speech taken away, and it was in despair in getting any change by constitutional means."
This background to the Phoenix Park assassinations by the Invincibles is seldom given. In October 1881 two women were killed by the RIC at a demonstration in Belmullet. On 5 May 1882 in Ballina, County Mayo, the RIC opened fire with buckshot on a crowd of boys and girls following a band. One boy was killed and other children were injured. The following day the Phoenix Park assassinations took place, not as a direct retaliation for Ballina but as a direct consequence of the repressive regime then in force in Ireland.
It was on the afternoon of 6 May 1882 that Permanent Under Secretary Thomas Henry Burke and Chief Secretary Lord Frederick Cavendish were accosted in the Phoenix Park and killed with surgical knives. There was a massive mobilisation by Dublin Castle and enormous political pressure for arrests and convictions.
Among the hundreds arrested were James Fitzharris and James Carey. Fitzharris spurned all threats and inducements to inform but Carey succumbed and was paid £10,000 and given passage to South Africa with his family. The Invincibles Joe Brady, Michael Fagan, Thomas Caffrey, Dan Curley and Tim Kelly were hanged in Kilmainham Jail in Dublin between 14 May and 4 June 1883. Others, including Fitzharris, received long prison terms.
Carey was shot dead on the ship bringing him to South Africa by Patrick O'Donnell of County Donegal. O'Donnell was returned for trial to London and executed in Newgate on 17 December 1883.
Another of those who refused to inform was Joseph Poole, a Dublin tailor. He was arrested and charged with the killing of an alleged informer, John Kenny, who was found shot dead under the railway arch at Seville Place in July 1882. Poole was convicted and sentenced to death. When sentence was passed Poole called for a cheer for the Irish Republic.
Three of Joseph's Poole's brothers Christy, Vincent and Patrick and his nephew John fought in 1916 as members of the Irish Citizen Army.
Joseph Poole, the last of the Invincibles, was executed in Richmond Prison, Dublin, on 18 December 1883, 125 years ago this week.
An Phoblacht Magazine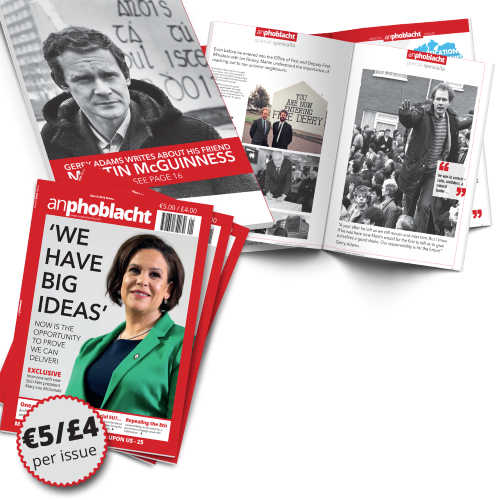 AN PHOBLACHT MAGAZINE:
The first edition of this new magazine will feature a 10 page special on the life and legacy of our leader Martin McGuinness to mark the first anniversary of his untimely passing.
It will include a personal reminiscence by Gerry Adams and contributions from the McGuinness family.
There will also be an exclusive interview with our new Uachtarán Mary Lou McDonald.
test