18 December 2008 Edition
INTERVIEW : Progressive Unionist Party leader Dawn Purvis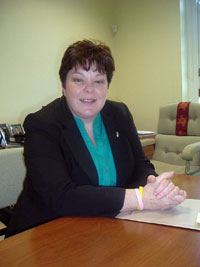 A vision for unionist working-class communities
THIS interview with DAWN PURVIS is the first-ever given to An Phoblacht by a leader of the Progressive Unionist Party, often described as the political voice of the unionist paramilitary Ulster Volunteer Force.
Here's how the PUP itself describes its relationship to the UVF:
"The Progressive Unionist Party evolved from those members of the Ulster Volunteer Force and Red Hand Commando who wished to explore a political and peaceful future for Northern Ireland.
"The Progressive Unionist Party has an historical link to the UVF/RHC constituency and continues to influence, where possible, loyalists who are prepared to progress along the path towards a normal society."
Dawn Purvis succeeded the late David Ervine as leader of the Progressive Unionist Party in January 2007. The death of the charismatic Ervine, who had served 11 years in Long Kesh for possession of explosives and was probably the most innovative political thinker from the unionist working class in decades, was a heavy blow to the PUP but Dawn Purvis says she wants to build on the work Ervine started.
She joined the PUP in 1994 and has been party chairperson, chair of the Women's Commission and spokesperson on Equality. She has helped produce many of the party's policy documents. She was the PUP's talks co-ordinator for 1996-1998 multi-party talks which led to the Good Friday Agreement. Dawn was the PUP Assembly Co-ordinator from 1998 to 2004.
After returning to education in 1997, she graduated from Queen's University Belfast in 2003. She previously worked as an academic researcher.
She has said:
"Every individual on the planet has potential. Where I come from, the lack of opportunities mean that many individuals fail to achieve their full potential. Our job is to help and encourage them to reach it."        
GETTING INVOLVED
What's your own background growing up in Belfast and how did you get involved in unionist/loyalist politics?
I grew up in a mainly loyalist, working-class area of Belfast. Never had a lot – it would be defined as living in poverty. It was a small area, surrounded by nationalist areas, so I grew up with the conflict.
My first memory of the conflict is barricades going up at the bottom of the street. These were looked after by men who lived in the area in fear of the IRA shooting up the street. 
I was always community-orientated and involved in the community, running mothers' and toddlers' groups and community festivals and I was asked to join the PUP after the first ceasefire in 1994. My initial response was, 'Clear off.' I didn't think politics within Northern Ireland or 'politics with a big P' was going to resolve anything. From an early age, my mentality was that we would have to sort out the guns.
I was impressed with listening to David Ervine and Billy Hutchinson and people like that who were beginning to articulate a different way forward for loyalism/unionism. This was something which appealed to me. Eventually, I did join the party.

PLANS FOR THE PUP
How are you settling into the job of leader of the PUP and what are your plans for the party going into the future?
In terms of a learning curve, I would say that it is in right angles to the ground. The first year was difficult. I didn't underestimate the enormous challenge I was taking on but I have to say that I am enjoying it immensely and the support that I have had, from family and friends and colleagues across the board, has been tremendous and that's what keeps me going.
In terms of my vision for the PUP, I would say that there's a real hunger out there for someone to articulate a left-of-centre, working-class unionist view within the Assembly because it hasn't been very well articulated in the past.

FEMINISM AND UNIONISM
As a feminist and the only female leader of a unionist political party, is it difficult for women to progress within the loyalist/unionist political culture?
It is more difficult for women from a unionist tradition to emerge as leaders, more so than from the nationalist and republican tradition.
Unionism is a traditionally conservative ideology. We are living in a community that traditionally stereotypes roles for women: men as breadwinners and women as homemaker.
As for the term 'feminist', it depends on your definition of feminist. Is it liberal feminist? Is it radical feminist? There are different forms of feminism.
I think feminism within unionism has become equated with socialism and they are not regarded as 'unionism friendly'.
If a feminist is a woman who believes in equality and that women are not yet afforded the same as men, then, yes, you can call me a feminist. I do not label myself as a feminist; maybe others do but I don't.

UVF WEAPONS

The IRA has comprehensively dealt with the weapons issue by putting its arms beyond use. How can the UVF build confidence among the nationalist population that the issue of UVF weapons will be dealt with and that they will not be used against them again? What are you doing politically to resolve this issue?
I think the notion of putting weapons beyond use was very symbolic for republicanism and all the connotations that came with that. I have no doubt that it has been very difficult for people to try and achieve. I think it was a hugely significant move for the Republican Movement.
The UVF statement of 3 May 2007 was itself significant in terms of its intent in terms of the Peace Process and the political process and it was timed, quite rightly, to bolster devolution on 8 May. The UVF and its sister organisation, the RHC, has been involved for a number of years in a conflict transformation process, looking at the next steps where they go to in the event of devolution, and achieving devolution here and things settling down. I think that was hugely significant, knowing that weapons are put beyond reach or out of use. I think that is much more important to the community than where those weapons are and are they being used.

COLLUSION
Throughout the course of the recent conflict it is clear that unionist paramilitary organisations, including the UVF, were operating hand-in-glove with elements of the British secret services to target nationalists and republicans for assassination. Were loyalist organisations mere pawns in a game played by the intelligence services? How can nationalists be assured that collusion is ended?
Republicans have a completely different view of collusion in comparison to loyalism. I think that when unionists and loyalists hear republicans talking about collusion they see it as a bit of revisionism coming from republicanism, in other words republicans rewriting history to legitimise their own war.
I can tell you that David Ervine for many years talked about the manipulation of paramilitaries on all sides by the security services and talked about the need for the lid to be lifted on it.
I remember we had the investigative journalist Peter Taylor as a guest speaker at conference and David Ervine pleaded with him to start digging about why, when the names of known drug dealers were being given to the police, they were not being arrested.
There is the issue of collusion. Whether it's on the scale as suggested... that remains to be seen.
People think that it's nonsense that loyalists colluded with the British Army to kill all the Catholics that have been killed in the past 30 years. Collusion is not viewed within the unionist community on the same terms as within the republican community.

MARK HADDOCK
Have the revelations about Mark Haddock undermined the work of your party colleague, Billy Hutchinson, in the Mount Vernon area?
Billy is doing a good job in Mount Vernon and the community recognise him for this. It is a community that needs help and he has managed to turn it around with the help of the community and others. And that is what the PUP is about –  it's about empowering communities.
The work that has been going on in Mount Vernon is tremendous, so don't knock it. 

DRUGS
The drugs culture is one that is causing major problems within communities throughout Ireland. Unionist paramilitaries, including the UVF, have been directly linked to drug dealing and the drugs trade. What is the PUP doing to tackle this issue?
Unionism needs to wake up. There is a need to lift the rock up and see what's underneath.
What we are beginning to see more of is a community response to a plague in their midst. They are crying out for the police to do something about these drug dealers but, by the same token, the police need evidence before they can do something about it.
We need to build relationships between the community and the police so that the drug dealers and others can be arrested and taken off the streets.

BILL OF RIGHTS
A Bill of Rights for the North, which Sinn Féin wants to see, including social and political rights, would benefit working-class people from whatever community  – unionist and nationalist. Will you be trying to engage and educate your community on the need for such a Bill of Rights?
The first PUP document ever produced in the early 1980s looked for a Bill of Rights. Again the PUP were well ahead of their time in terms of other unionist parties and I'm glad that the other unionist parties have come to this debate because the DUP in particular didn't even engage in the notion or question of whether we should have a Bill of Rights.
I think a Bill of Rights is crucially important because it protects everyone and no one should be afraid of it.
I think the unionist parties need to come on board. I know that there are some sticking points around the notion of social and economic issues in particular but if we are trying to build a society that values everyone equally across the board then that's what a Bill of Rights does: it protects those rights, including a minimum standard of living and things like education.

EQUALITY AGENDA
Do you see Sinn Féin's promotion of an equality agenda as something the PUP would see common cause with?
It depends on your notion of equality. Sinn Féin's notion of equality is separate from the PUP's – it's not an option in my book.
If you look at the Programme for Government, a shared future is missing out of it. There's nothing about building peace and reconciliation, there's nothing about shared schools or housing or policies that promote sharing of anything.
It's going to be very difficult for communities to come together when we have the parties in the Executive promoting policies that won't bring people together.

ENGAGING UNIONISM
Sinn Féin has initiated a process of unionist engagement to build links with the unionist community. Is there any prospect of the PUP doing something similar, maybe engage in a policy of 'nationalist engagement'?
Well, I don't know what it is doing. For a start, I think what it managed to do at its launch was to alienate a lot of unionists. This was about the statement about Bobby Sands because when you try to engage the whole section that has never engaged with you, you need to be mindful of how they perceive you and you need to be mindful of the language that you use. So if you are on a charm offensive you do not want to offend.
I think the idea of unionist engagement was a good idea. I don't know what's happened to it since, or where it's gone, or what it has achieved. What I can tell you is that people in working-class communities are working together and there are initiatives where people recognise the positive outcome of having dialogue and relationships.
Now we need that replicated in the Programme for Government. We need to see Sinn Féin and the DUP promoting joint policy that replicates what's happening on the ground.

COMMUNITY UNITY
Do you see opportunities where working-class nationalist and unionist communities can now work together on specific social, economic or political issues or campaigns in the future?
The PUP judges everything on its merits, to benefit all sides of the community, particularly working-class and deprived communities.
To me that's what politics are about: improving people's quality of life. If I have to work with anybody to alleviate this then I will do it.

THE PUP AND SOCIALISM
How would you describe the relationship between the PUP, which sees itself as a more socialist party, and the main unionist parties, which are very much right-wing and conservative?
Those parties have a strange history. The DUP, when it was first established, was to be a working-class party. Sammy Wilson was known as 'Red Sammy'; Fred Cobain was known as 'Fred the Red'! The UUP had a labour association within it but that collapsed in 1972.
I think you need to look at the history of the conflict to see why the labour tradition within unionism went into decline and it's because anything equated with socialism was viewed as republicanism, so any left-of-centre movement was seen as subversive and anti-state. The notion of labour in unionism became a dirty word.
Those parties changed from having working-class policies and ideologies to be more and more conservative. That's not to say that there aren't individuals within those parties, particularly councillors who are now MLAs who work in working-class, deprived communities and do their best and do tremendous work.
Relations with the DUP have always been pretty fraught, probably because they regarded the PUP as they regarded Sinn Féin – they didn't speak to any of them. That all changed on 8 May when the institutions were restored.
In regards to the Ulster Unionist Party, there are individuals who are far more progressive and recognise the relationships and see the advantage of working together to achieve something better for the community. Our relationship with the UUP has been much more progressive than that with the DUP.
I see great potential ahead for the PUP. I have a vision for the PUP to take the left-of-centre ground in Northern Ireland, nearly like the old Northern Ireland Labour Party as there is a cry from those communities that are deprived and suffering from issues that are not being addressed.
BILL OF RIGHTS:  Dawn Purvis makes her point at a Human Rights Consortium conference