18 December 2008 Edition
90th anniversary of Markievicz election marked in Stormont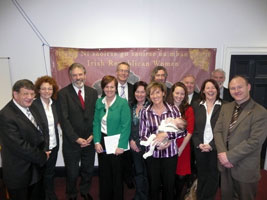 SINN FÉIN held a ceremony at Stormont last Monday to mark the 90th anniversary of the historic election results of 1918 in which Sinn Féin won an overwhelming mandate for Irish independence, leading to the formation of the First Dáil Éireann and, in particular, to mark the election of the first female MP, Constance Markievicz.
The event was organised to mark Sinn Féin women's continued participation in politics, highlighting the dynamic that women have brought to the party. Currently, Sinn Féin has one woman MP, seven women MLAs, and numerous female councillors. The party's two MEPs are women.
FOOTSTEPS
Michelle Gildernew MP said she never could have foreseen that she would follow in the steps of Markievicz by being the next Sinn Féin MP to be elected.
Carál Ní Chuilín read a biography of Constance Markievicz and Councillor Charlene O'Hara, read the poem Easter 1916. Charlene, from Twinbrook in west Belfast, was co-opted onto Lisburn Council in November 2007 to replace Jennifer McCann and, in the process, became the youngest councillor in Ireland at the age of only 20.
Charlene, however, was not the youngest female republican present at Stormont on Monday as Michelle Gildernew's new arrival, baby Aoise, was present too to celebrate the event which also saw the launch of this year's Republican Calendar marking the role of women in the struggle for Irish freedom.