18 December 2008 Edition
Media View

Lisbon 2 – brace yourselves!
WE should brace ourselves for hysteria on a grand scale as the Lisbon Treaty referendum Mark II campaign gets into full swing. It actually started about five minutes after the 'No' vote last summer, getting into second gear in the following months as Irish people were warned that the 26 Counties risked being expelled into outer darkness unless we voted 'Yes' the next time. But the campaign that is about to be unleashed upon us will dwarf anything the state has seen since the days when Conor Cruise O'Brien and his censors blacked out rebel voices, thoughts and music from the airwaves and branded anybody with a republican outlook as  a sectarian terrorist.
The campaign that is now cranking up will have two central lies at its heart. One, is that we have secured "legally binding" guarantees that concede to people's concerns about the Lisbon Treaty, ie, on neutrality, taxation, workers' rights and social affairs.
The Sunday Business Post published an article last weekend by Dr Gavin Barrett, a member of one of the few industries that is expanding rather than contracting in the current recession, the Eurocrat academic community, paid for by the taxpayer in various academic institutions and 'think-tanks' to propagate the Euro-federal message. Barrett stated that we simply have no alternative but to 'revisit' the Lisbon Treaty (ie, we have no option but to vote 'Yes') and pooh-poohed Sinn Féin for its dismissal of the intended declarations as not legally worth the paper they are written on.
Unfortunately for any reader with a memory span of more than a few seconds, Barrett went from insisting that such declarations would be legally binding to stating, in the same article, that "such guarantees are not legally necessary in relation to issues such as taxation, abortion and neutrality".
Barrett, however, is a pussy cat compared to that former Socialist Workers Party leader, John Palmer, now one of the leading Eurocrats in the EU 'think-tank' industry and a founding member of the European Policy Centre which describes itself as "committed to making European integration work". Palmer is a regular on RTE whose presenters quiver with obeisance as the ex-socialist's commanding, hectoring tones  instruct Irish listeners about what is good for them.
Palmer was brought on by Pat Kenny last week to deal with Jens-Peter Bonde, a leading anti-Lisbon campaigner and someone who engages in reasoned, political debate. Palmer immediately dismissed Bonde's remarks as "rubbish, distortions and lies", remarks that were allowed to pass unchallenged by the 'neutral' presenter, Kenny. When Bonde began to deal systematically with Palmer's bluster, Kenny stepped in to tell Bonde that 'you-would-say-that-wouldn't-you', because he was a campaigner with an anti-Lisbon agenda. Naturally, no such commentary was offered by Kenny to describe the ill-mannered Palmer's agenda as a hired hand for the EU. And when Bonde's reasoned discourse threatened to overwhelm Palmer's abusive demagoguery, Kenny cut in again by suggestively and quizzically repeating Bonde's denial that he had ever told a lie in public discussion.
But if Palmer came in like a lion, he went out like a lamb as Bonde dealt with him intellectually, incidentally providing the Eurocrat with a lesson in good manners. This is just a taste of things to come. As I said. Get ready for abuse, distortions and lies. All the sins that the establishment media and their political masters accuse the 'No' side of practicing.


Garret Fitzgerald, Britain's favourite Taoiseach (before John Bruton accidentally slipped into that role) was once a small boy, but those who believe that he whiled away his childhood hours reading railway time tables and swotting up on Greek philosophy, greatly underestimate the precocious young Garret. He recently told Irish Times readers that when the Fianna Fáil government withdrew armed guards from leading politicians' cars, that he and his 13-year-old brother, one Fergus Fitzgerald, made preparations of their own to defend the family homestead.
Apparently Fergus and Garret (then a prodigious seven-year-old) "prepared spears and bows and arrows with which to repel any subsequent IRA attack". You couldn't make it up. This was in 1933, a time when Garret's daddy, Desmond Fitzgerald used to grace the Dáil chamber in a blue shirt following which he must have gone home to threaten the kids with the IRA unless they did their homework.

An Phoblacht Magazine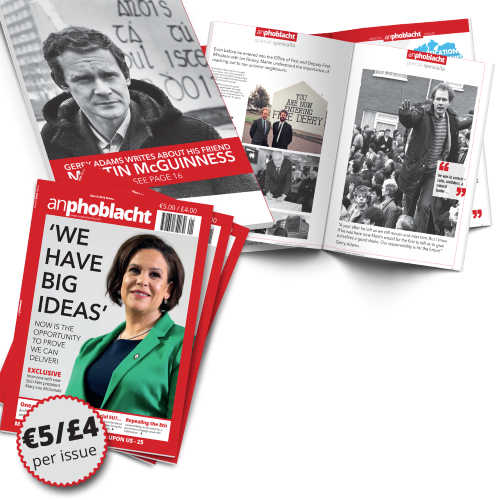 AN PHOBLACHT MAGAZINE:
The first edition of this new magazine will feature a 10 page special on the life and legacy of our leader Martin McGuinness to mark the first anniversary of his untimely passing.
It will include a personal reminiscence by Gerry Adams and contributions from the McGuinness family.
There will also be an exclusive interview with our new Uachtarán Mary Lou McDonald.
test