18 December 2008 Edition
Latest bank bailout needs guarantees
Guarantees to protect families at risk of losing their homes, renewed credit for business and stricter regulation of the banking sector were just some of the guarantees sought this week by Sinn Féin on the Irish Government's €10 billion bank recapitalisation strategy.
Last Sunday, 77 days after Brian Lenihan unveiled a €400 billion plus deposit guarantee scheme for Irish banks, a separate €10 billion bank recapitalisation strategy was unveiled by the Fianna Fáil finance minister, though as An Phoblacht goes to print the exact details of the scheme are still not in the public domain.
A change in banking culture can only be achieved through wholesale personnel change on the banks' boards. We need to know who will be representing the Irish Government on the boards of these banks and how will they be accountable to the Oireachtas. The banking sector needs strict oversight and regulation.
Particularly worrying is the proposal to include offshore private equity firms in the scheme, a proposal to which Sinn Féin is totally opposed. Allowing what Arthur Morgan TD has described as 'corporate raiders' to take any role in recapitalisation will have dire consequences as their short term profit driven agenda will take precedence over the needs of the economy.
Small and medium sized enterprises form the backbone of the Irish economy and offer the best hope of economic recovery. The Government must ensure renewed bank funding for businesses, such as seed capital for new projects, more flexible overdrafts for businesses that are viable as a going concern, investment in and loans to businesses that are planning expansion.
However, at a time when hundreds of jobs are being lost every week, the banks are sitting back, refusing to offer credit, while good businesses are going to the wall.
There should be no foreclosures on properties of people who get into financial difficulties as a result of the economic downturn for the two-year duration of the Guarantee Scheme with the banks.
The banks have offered no new initiatives and are unable to disclose when they will finally avail of long awaited European Investment Bank (EIB) funding. At a time when banking credit is in crisis, the Irish banks are acting in an incredibly complacent manner.
More importantly, there is a lack of confidence among ordinary people that the government is capable of leading the state through the current economic crisis. It is critical that  it gets to grip with the economic downturn and does not allow the banks to set the agenda as they have been doing to date.
Brian Lenihan's latest vague statement is another example of the Government's lack of strength in dealing with the financial crisis.
Everyone at An Phoblacht would like to take this opportunity to wish all our readers and sellers a Happy Christmas and best wishes for 2009. The next issue will be out on 8 January 2009. 
An Phoblacht Magazine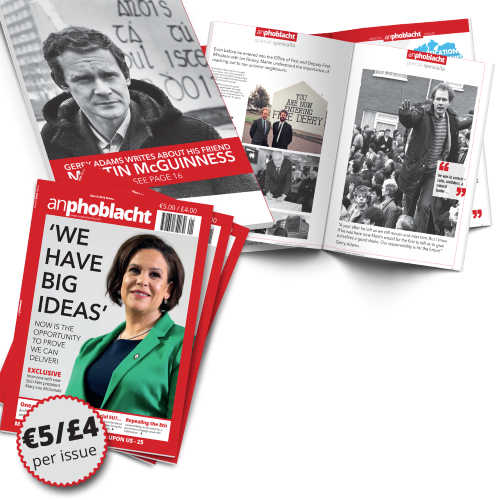 AN PHOBLACHT MAGAZINE:
The first edition of this new magazine will feature a 10 page special on the life and legacy of our leader Martin McGuinness to mark the first anniversary of his untimely passing.
It will include a personal reminiscence by Gerry Adams and contributions from the McGuinness family.
There will also be an exclusive interview with our new Uachtarán Mary Lou McDonald.
test